Still Need Eclipse Glasses? Here's Where You Can Buy Safe Ones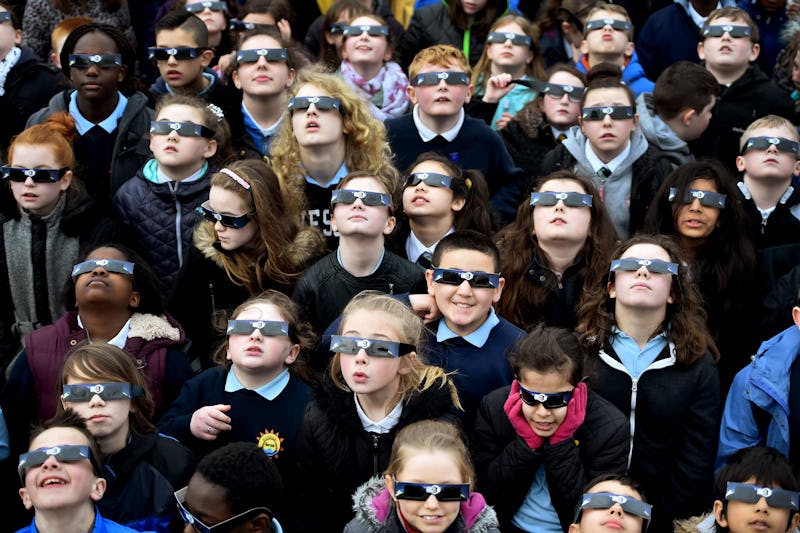 Jeff J Mitchell/Getty Images News/Getty Images
On Mon., August 21, 2017, a total solar eclipse will sweep over the United States mainland for the first time since 1979. This means that almost everyone in American will get some kind of epic sky show featuring two of the greatest celestial bodies out there — I mean seriously, name a more iconic duo, I'll wait. And while you should totally be putting your energy into figuring out how to get to a point on the path of totality or above the clouds, you should also be spending some time figuring out where to buy a proper pair of solar eclipse glasses.
Did you know that looking directly at the sun during a solar eclipse can cause serious damage to the eye, and potentially even permanent blindness? I know what you're thinking: you look up at the sun every day, and you can still see just fine. But don't be fooled: the sun's appearance actually changes during the eclipse. When the shadow of the moon lays across the blazing light of the sun, it confuses your eyes. Basically, our eyes have built-in safety features that protect the sensitive areas while we're looking at bright lights. But, once that shadow starts creeping on the sun, our eyes start to focus on it, disabling our natural defense. Looking directly at the sun during an eclipse can cause all of the sun's harmful rays to make it into your eyes, essentially burning the eyes' most sensitive layer.
So, don't be a rebel — your sight could truly be at risk if you don't take the necessary precautions when looking at the eclipse. And no, sunglasses will not cut it. The only glasses that cut it, reach a NASA-approved ISO (affects your eye's vulnerability to light) standard of 12312-2. Here are a few brands that NASA endorses the safety of:
If you want to try something a little different and a little but more professional, opt for the Lunt SUNoculars. You can keep them around long after the eclipse to safely check out all sorts of sky activity.
This brand has a ton of different eclipse-viewing pieces of equipment — with lots of affordable and disposable options.
This brand takes eye safety really seriously, and wants you to know exactly how much you can trust them. They give an in-depth description of each of their glasses and their safety features so you can rest assured you eyes will be seriously safe.
This company's super protective solar film can be worn in many different ways. Get yourself a viewer if you don't feel like wearing glasses, or get some film by the roll and make your own viewer. There are lots of safe options to be found on this site.