There Is Sunblock With Glitter In It & TBH, I'm Kind Of Here For It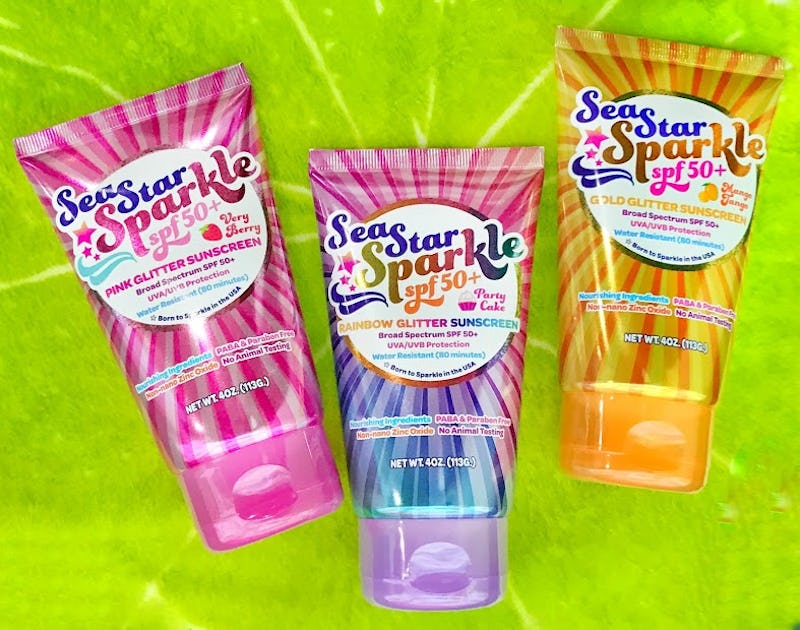 Courtesy Sunshine & Glitter
Forget everything you know about applying SPF, because it just got a whole lot more fun. Sunshine & Glitter makes glitter sunscreen, so you can make your summer a little brighter. This isn't your average chunky glitter, either. You'll look like you just emerged from the water like the mermaid that you truly are.
There's a good chance that you have a love-hate relationship with sunblock. Yes, it it there to protect you, but it's also a pain in the butt to rub in and often leaves you sticky. Sunshine & Glitter's sunblock is a way to beat all that. Sea Star Sparkle has SPF 50, is water resistant for 80 minutes, and packed with a whole lot of glitter.
You have two different options when it comes to getting your protective glitter on. There's a golden sparkle, which will give you a highlighter-esque glow, and rainbow sparkles for those of you feeling a little extra. Both of them are a subtle sparkle — not that chunky glitter that you used to wear in the '90s.
As if all of that wasn't already enough, it's also scented. The golden shimmer has a mango scent, while the multi-colored glitter sunscreen smells like party cake. So you can forget that you're wearing SPF all together.
This is not your average gimmicky product, either. The shimmer comes off just like a highlighter would. Wearing makeup to the beach might be a little extra, but shimmer in your sunscreen is just enough.
To top it all off, you can get tons of other sparkly and protective products from the brand too. There's glitter SPF lip balm, on-the-go pouches, and even after-sun lotion. Your entire summer routine just got a whole lot more fun. With a product like this, you won't want summer to end.
Sunshine & Glitter's Sea Star Sparkle SPF is available on the brand's website for $18.95 right now. It's a little pricier than your typical sunblock, but it goes way above and beyond. The rest of the products range from $8.95 for lip balm to $36 for sparkly sets.
Here's a look at every single item that the brand has to offer, so you can see how incredible the line is. After all, you might as well have some fun applying your SPF products.
1. Beach Gypsy SPF
2. Sea Star Sparkle
3. Day Is Done Glitter Aftersun
4. Sea Star Sparkle On-The-Go
5. SPF Glitter Gloss
Brb, stocking up for the rest of the season.