This "Believe Women" T-Shirt Supports Survivors Of Sexual Violence & Here's How To Get It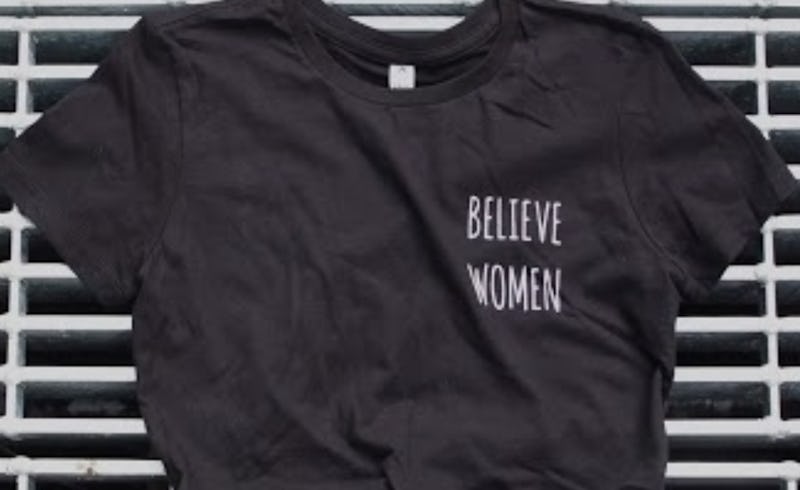 Courtesy of America Hates Us
One of the most important movements of 2017 has been the #MeToo movement. Women continue to come forward to tell their personal stories of sexual assault, highlighting just how prevalent the problem is. Now, there's a way to show your support for these survivors on your sleeve — literally. Social justice lifestyle brand America Hates Us created a collection of "Believe Women" shirts, which come in a variety of iterations and support survivors in multiple ways.
The collection started with tees over the summer, but demand and interest has lead the company to add a hoodie, according to Women's Wear Daily. These simple but effective shirts remind us of the unfair standards that often prevent a woman from revealing when she is a survivor of sexual violence.
In the product description on the AHU site, the brand starkly states, "When deciding to report sexual assault, women shoulder colossal burdens. First, they are forced to retell and relive their trauma. Second, they must convince a stranger that their claim is valid."
The brand furthers lays out the cold, harsh facts of the system and its flaws relating to to assault, writing, "The story they share must be airtight — despite the fact that by definition sexual assault is fraught with emotion, fear and shame. Those who have the courage to speak out are too often doubly victimized. Once by their attacker and again by a system that not only discriminates against women, but also doubts them."
Believe Women Zip Up Hoody, $55, americahatesus.us
Therefore, the simple credo "Believe Women" on a tee or a hoodie reminds survivors that they are indeed wholly supported. It also calls out the system and encourages sensitivity, because anything less can deter a survivor from reporting a crime.
Believe Women Women's Tee, $25, americahatesus.us
The shirts are also a call to action, because fashion can be exactly that. They seek to help abolish the arbitrary deadline for reporting a crime and to cease victim blaming, where someone is asked if they said, did, or wore something to provoke an attack.
The shirts have but a simply ask — believe women.
Believe Women Crew Neck, $45, americahatesus.us
It's a beautiful thing when fashion can serve as an agent of change. These shirts announce the wearer's support of a critically important movement that isn't going to fade into the background in 2018.
Believe Women Women's Tee (Red), $25, americahatesus.us
The "Believe Women" collection features a zip hoodie, a crew neck, a women's tee in black and red, and men's tees in both black and off-white. The size range runs from small to XXL, depending on the product. The brand also sells "Believe Women" pins, so you can decorate a bag or a backpack with the same message.
Believe Women Tee (Off-White), $25, americahatesus.us
If you are not familiar with America Hates Us, which donates 20 percent of profits to nonprofit organizations like the ACLU and Planned Parenthood, it's time to get further acquainted. The Brooklyn-based lifestyle startup was launched by attorney Tareq G. Brown and a friend with the aim of issuing streetwear that also served as a way to amplify the voices of marginalized groups. While working with survivors of human trafficking, Brown told WWD that he saw "the common denominator of victims not reporting crimes is a fact."
This IRL experience eventually birthed the collection of shirts.
If you have some extra cash leftover from the holiday season, why not throw some support behind these shirts? It's a shame society needs a reminder to believe women — but your shirt could be the first step to shifting the tide.