Cynthia Nixon's Campaign Merch Includes A 'Sex And The City' Reference — And A Feminist AF Message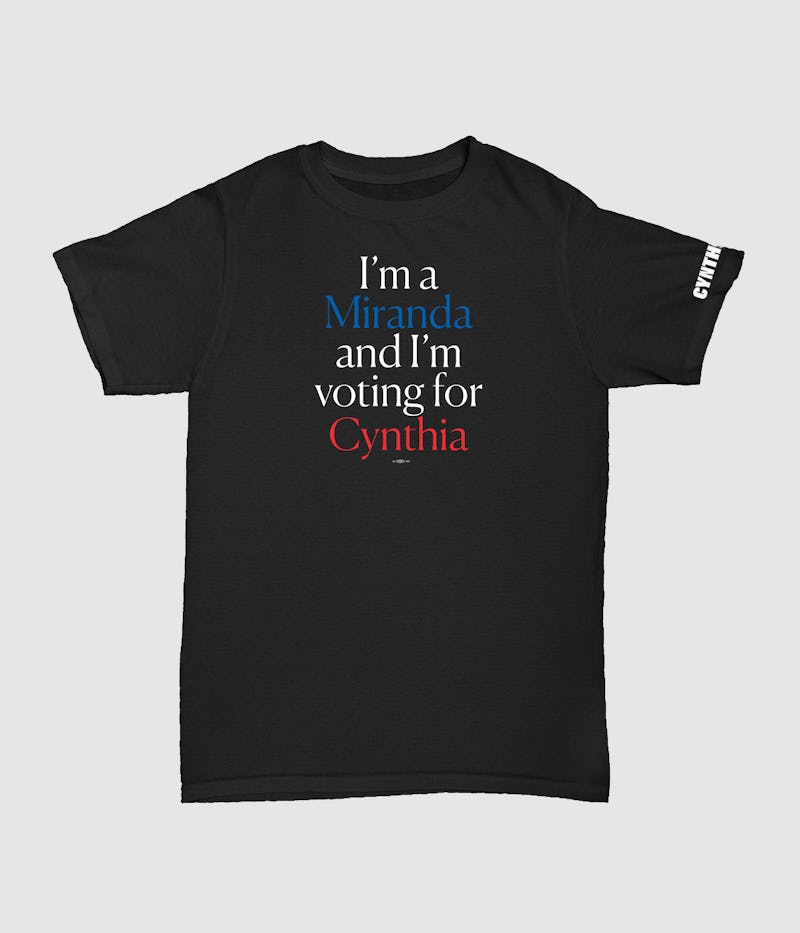 Courtesy of Cynthia for New York
Former Sex and the City star Cynthia Nixon is running for governor of New York. Cynthia Nixon for Governor merch exists and all of it is awesome! You can back this budding politico via t-shirts, totes, and hats.
Of course fans of the show and its always-fabulous clothes will wonder what Nixon's campaign trail fashions will look like and what message they will send. Obviously, her policies and platforms will take precedence. But SATC diehards can show their support — whether or not they are a Miranda or a Carrie — with the gubernatorial merch.
It's a small but focused collection — there are only five items— and it's all about the details. It also nods to those popular '00s shirts that declared "I'm A Carrie" or "I'm a Miranda" based on fans and their fave character from the series. You have to love it when a celebrity who is going after a new and critically important gig can be self-referential with a sense of humor — all the while pushing forward to make change.
The text of the apparel and accessories is spelled out in red, white, and blue. There is also an option for children that crosses out the "Miranda" part and replaces it with the statement "A Future Governor of New York." So you can deck yourself and your child out in Miranda, er, Mommy and me gear!
Everything in the cute and wearable collection is under $40.
The limited edition collection also celebrates the 20th anniversary of SATC. The Miranda merch was created by the @everyoutfitonsatc Instagram account.
So if you love politics and fashion, and know the two are not mutually exclusive, you need to shop this line.
Below is the selection of products. All the purchase proceeds are donated to the "Cynthia for New York" campaign.
1. Black Tee
2. White Tee
3. A Tote
4. Dad Hat
5. Toddler Tee
Of course we hope to see fashionista and series star Sarah Jessica Parker wear one, any, or all of these pieces on her ever-stylish person in a display of support for her former cast mate.
SJP still calls Manhattan her home IRL. You can totally envision her wearing the white top with cropped, tattered boyfriend jeans or with a full ballerina skirt and sky high heels from her own collection for an unexpected, high x low pairing. Or perhaps that is how you plan to wear the Cynthia Nixon gubernatorial merch.
You can and should shop the collection now — before it runs out! While fans of the show who aren't super interested in Nixon's political campaign are more than welcome to purchase and rock these pieces, it really does send a message about strong women in the political realm.
Expect to see these pieces popping up in the Big Apple and beyond in the coming weeks.