Dyson's New Styling Tool Is Going To Make Your Hair Routine SO Much Easier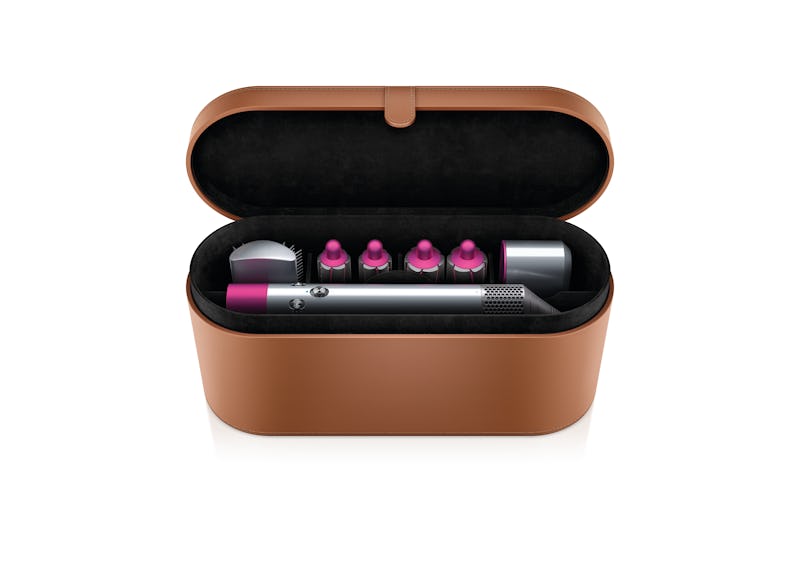 Dyson
Thick hair can be a blessing, but it can also be a curse. While I'll never have to worry about losing any hair in the near future, it takes a good three or four hours for it to fully air-dry. Obviously I could give it a good blow-dry, but extreme heat equals frizz galore. Thankfully, Dyson have released a styling wand, the Dyson Airwrap, that relies on the "Coanda effect" (more on that later), that will style your hair without the risk of damage. So, if you're wondering where to buy the Dyson Airwrap in the UK, we've got you covered.
The product officially released on today (Oct. 10), and is available directly from Dyson via their website and their stores across the UK. You can buy both variations of the Airwrap for £399.99, which cater to either smoothing and controlling your hair or giving it some volume and shape.
If you're after the whole package, the Airwrap complete is exclusively available via the website for £449.99, which include "all Dyson Airwrap styler attachments." All three variations come with a beautifully tan storage case that will keep your styling wand safe and sound and make you feel professional AF.
The innovative styling tool will soon be making an appearance on the high street, too. John Lewis will begin selling the Airwrap on Nov. 1 at £399.99, while Boots are currently letting customers join a waiting list to be "the first to know when it drops" at the store.
As would be expected from Dyson after the reception their Supersonic hairdryer received in 2016, it's no surprise that the Airwrap is already making waves in the beauty community. Vogue's calling it "a wrap-star" that will "change the way we style hair forever," and Glamour's calling it "your future" if you spend "forever drying and curling your hair every morning."
So what's all the hype about, and how on earth does this thing work?
It's all about that magical airflow and the Coanda effect. Described as a "styling tool engineered to create curls, waves, and smooth blow dries without extreme heat" in materials sent to Bustle UK, the Airwrap uses "jets of air" as opposed to heat to achieve a professional finish. The Coanda effect is thus a physical phenomenon that "occurs when a high-speed jet of air flows across a surface and, due to difference in pressure, the air flow attaches itself to the surface."
In terms of using this effect to dry and style hair, Dyson's aerodynamicists team "created a way to style hair using only air combined with heat" that will create "a natural look with a sleek finish, helping prevent extreme heat damage."
The heat will always stay below 150 degrees, thanks to "intelligent heat control" via a glass bead thermistor that "measures the temperature up to 40 times a second," which will help "ensure hair does not become exposed to extreme heat," and will keep your earlobes burn free. Amen to that.
While the Airwrap is pretty expensive — the cheapest option is just shy of £400 — it looks as though it's a substantially worthy purchase, much like the Supersonic hairdryer. Thanks to Dyson's continued innovation, keeping your hair heat-free and damn healthy is looking easier everyday.