Eloquii Released A Collab With Jason Wu & Items Are SO Much Cheaper Than His High-End Designs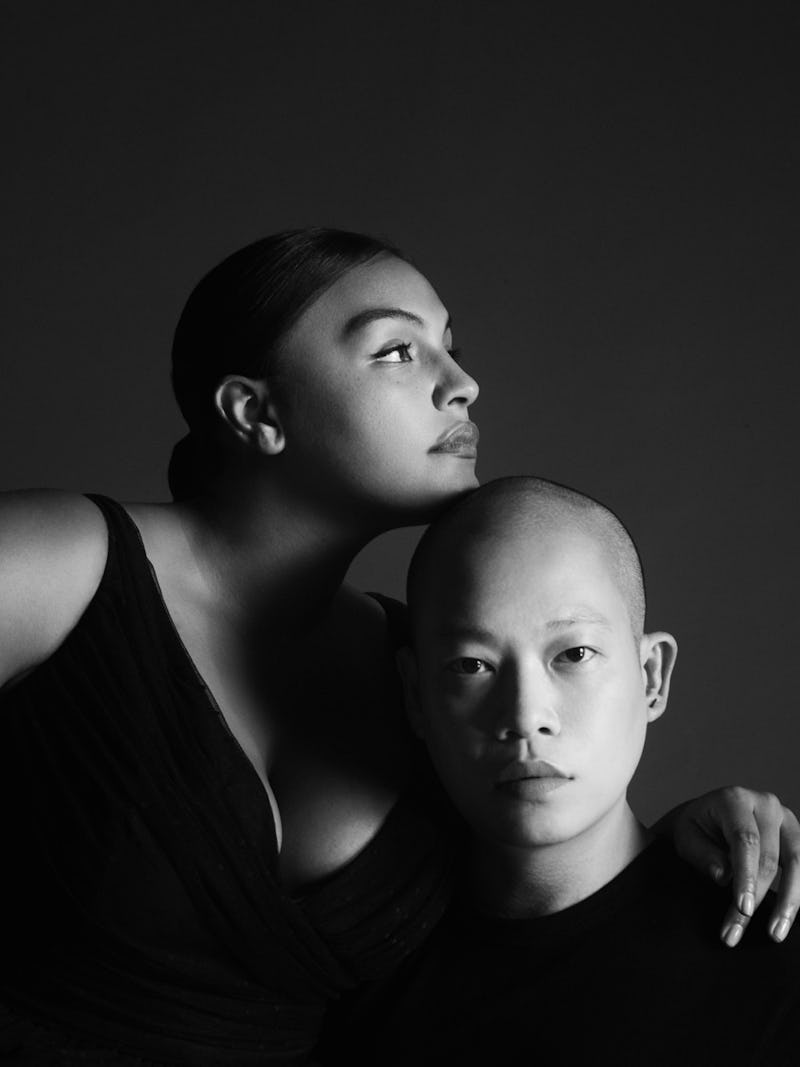 Courtesy of ELOQUII
There's no secret about that fact that many luxury designers' creations aren't available to plus women. That's slowly starting to change, and the latest designer to bring luxury to the plus market comes courtesy of ELOQUII x Jason Wu (offers sizes 14-28). The new collection from the fit-focused plus size brand and the luxury designer is holiday perfection, and it's the perfect melding of high-end ready to wear styles meets affordability and size inclusivity.
The ELOQUII x Jason Wu collection made its official debut on Nov. 1, just in time for the holiday season, and you can shop it right now on ELOQUII's website. The designs feature Wu's feminine and modern designs matched with ELOQUII's expertise on fit. The designer and brand have come together to create styles that pair glamour with affordability. Prices ranges from just over $89 to just below $260, and given Wu's place as a luxury designer, fashion fans will have a difficult time denying that these prices are bringing affordability and luxury to plus size fashion.
When I spoke with ELOQUII Creative Director Arnold, she explained the importance bringing noted high-end designs to the plus size market. "Women of all sizes deserve to be offered the same shopping experience," she says, "and for too long, the plus market has been underserved especially when it comes to ready-to-wear luxury. Through this collaboration, we want to give customers access to fashion-forward innovation without sacrificing quality and cost."
ELOQUII has actually long been committed to bringing quality, perfectly fitted styles to the plus size market. In fact, the brand is known for the way in which they've perfected fit for plus size bodies. That's what the brand paired with Wu's designs. In fact, Arnold says that the collaboration felt like the perfect partnership due to commonality between Wu's customers and ELOQUII's shoppers. The Creative Director explains, "Both the ELOQUII and Jason Wu customer is a powerful and confident woman looking for on-trend, sophisticated styles that embrace the female silhouette."
It's actually a feeling that Wu shares. Confidence and power are what he wants ELOQUII customers to feel when they wear the collection. The designer explains, "When she wears the collection, I want her to feel empowered and sexy, commanding any room she walks into."
In Wu's designs, it would be hard to not feel gorgeous, and the fact that the collection is designed for holiday makes its glamorous lean even more perfect. Arnold explains that the brand and designer chose to create a holiday collection because both the ELOQUII and Jason Wu customer crave glamorous pieces. Arnold goes on to say that the collection is meant to be versatile for these customers during the season explaining, "Since the holiday season is filled with numerous parties and gatherings, we have created styles versatile enough to be dressed up and down, mixed and matched."
If you've been on the search for the perfect holiday frock that's glamorous, affordable, and size inclusive, the ELOQUII x Jason Wu collection may just have it. With a focus on fit and Wu's modern design style, the collection is certainly one you'll wear all holiday season.