Where To Buy A Planned Parenthood Pin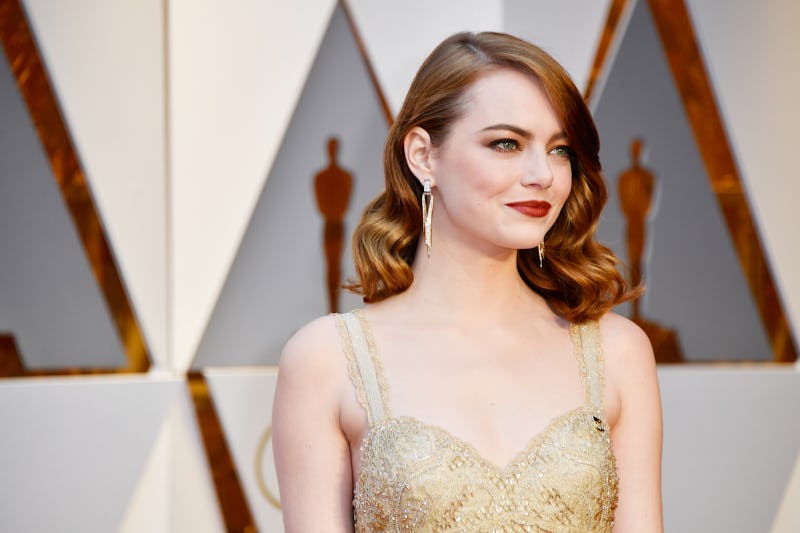 Frazer Harrison/Getty Images Entertainment/Getty Images
The 2017 Oscars were nothing short of an opportunity for celebs to make a powerful political stance on the red carpet. Many celebs, including Emma Stone and Dakota Johnson, wore Planned Parenthood pins at the 2017 Oscars to show their support for the organization.
The silver Planned Parenthood pins worn by Stone and Johnson were super subtle and coordinated with their outfits perfectly while giving a very strong message. The Planned Parenthood pins they wore were directly from Planned Parenthood and you can order one for yourself.
The silver lapel pins come in two different sizes, a 1 1/4 inch size and a 3/4 inch size and cost $5.95 and $4.95, respectively. The pins come from Planned Parenthood's marketplace and each sale will benefit Planned Parenthood.
Emma Stone wore her Planned Parenthood pin on the strap of her beautiful gold dress, and Dakota Johnson wore hers on her clutch which Planned Parenthood shared in a tweet.
Other celebs hit the red carpet in support of the ACLU by wearing little blue ribbons on their dresses. Karlie Kloss, Lin Manuel Miranda, Barry Jenkins, Busy Phillipps and Ruth Negga all pinned the blue ribbon to their designer gowns, so it was very obviously a night for political statements, and rightly so.
Johnson kept her pin on her clutch throughout the night.
Stone's pin melded effortlessly with her outfit.
You can buy your own Planned Parenthood pin at marketplace.plannedparenthood.org.