Get Your Hands On The Tommy X Gigi Pieces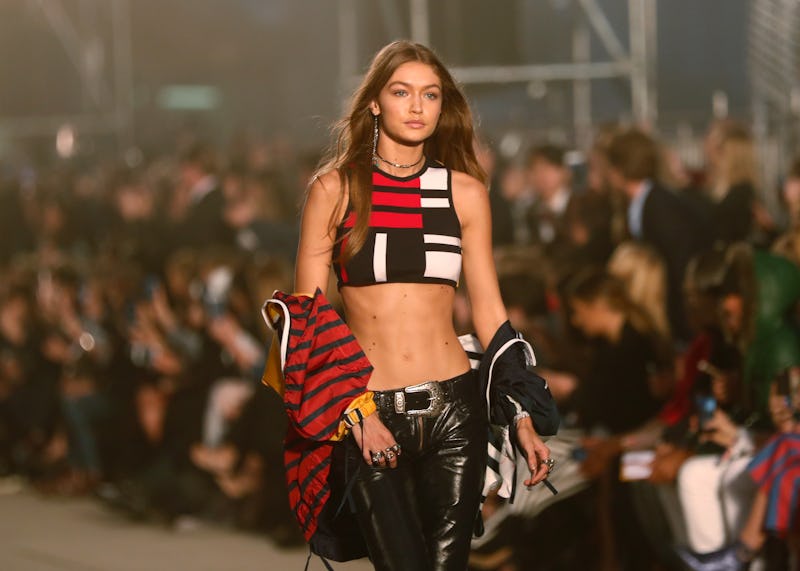 Rich Polk/Getty Images Entertainment/Getty Images
When "it" girl Gigi Hadid designs a fashion line with a classic brand, you're in for wearable pieces that have a modern aesthetic. I'm talking jeans covered in patches and embroidered bomber jackets, here. So, you're definitely going to want to find out where to buy the Tommy X Gigi collection because the clothes worn on the Venice Beach runway are already available to shop.
Some of the coolest aspects of the collection are that the runway show uses a "see-now, buy-now" method that allows you to shop pieces as you watch them saunter down the catwalk. But, even better than that —these items are pretty affordable, especially considering the fact that they come from a major fashion house. Of course, that only makes the "straight from the runway to my shopping cart" type of impulse buying even easier to take advantage of.
The entire range is available to shop or pre-order online on the Tommy Hilfiger website and retailers such as ASOS and Revolve are also carrying the line, according to their Instagram accounts. Prices range from $19.90 for a pair of underwear to $890 for a leather jacket. Really, no matter what kind of budget you're working with, there's a Tommy X Gigi piece (or maybe even two) for you!
From the jacket to the sneakers, this outfit couldn't be more comfy-chic.
The line featured everything from oversized sweatshirts to swimsuits, and you can shop all of it now!
Cotton Sweatshirt, $130, Tommy Hilfiger
A simple sweatshirt with the addition of a trendy patch will be your new wardrobe staple.
Cropped Polo Shirt, $89, Tommy Hilfiger
A cropped polo with a zipper? It doesn't get more '90s than this!
Patchwork Star Sweatshirt, $260, Tommy Hilfiger
Can't you imagine wearing this while sitting out by a beach bonfire on a cool summer night?
Punto Di Roma Dress, $190, Tommy Hilfiger
Color-blocking topped off with a chambray collar? This is the perfect nautical number to wear in the warm weather.
Stripe Bikini, $120, Tommy Hilfiger
Tommy X Gigi will have you ready to hit the beach in no time!
Girlfriend Fit Jeans, $199, Tommy Hilfiger
These patches will take your ensemble to a whole new "ready for some fun in the sun" level.
What would Hadid do? She'd wear this collection all summer long! There are several places to shop these pieces, so be sure you get your hands on these wares!