Venus Williams Created A Pendant To Benefit An Anti-Violence Org & It Has A Massive Meaning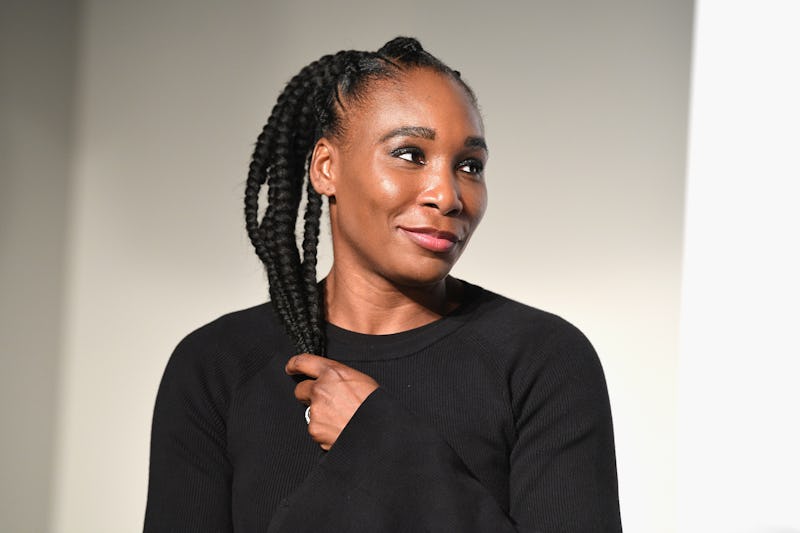 Slaven Vlasic/Getty Images Entertainment/Getty Images
During the holidays, some have the privilege of celebrating until their bellies are full and their pants unclasped. But in the midst of the holiday cheer, giving back is always something to be mindful of. One major athlete keeping true to the giving spirit is Venus Williams, launching a limited edition 14K gold plated pendant with proceeds going to the Yetunde Price Resource Center, a cause in memory of her older sister.
Williams' inspiration for the pendent came about with her late sister Yetunde in mind, who was tragically killed in 2003 as a result of gun violence. To honor the eldest of the five sisters, the Yetunde Price Resource center was created to support families and victims impacted by senseless violence.
The pendent is part of Williams' EleVen collection, an activewear lifestyle brand (offers sizes XS-XXL) to encourage self-expression and living without limits. To Williams, the pendant acts as a continuation to the brand mission.
"Giving back is important to me and a significant part of my mission with my EleVen line," Williams told Bustle exclusively. "I am so proud that proceeds for EleVen's gold pendant will support a cause dear to my heart — the YPRC. The work the YPRC does is so meaningful, helping victims of violence by getting the resources they need to thrive after tragedy. Being able to support and give back to this organization, and honor my sister's memory is powerful."
Williams' sister, Yetunde, was a caretaker and mother of three. Fortunately, Williams says, her children had access to resources after their loss. However, the Williams and Price families realized not all families are as fortunate to have such support after a tragedy similar to their own. Thus they launched the YPRC.
To give other families the support after being impacted by gun violence, the YPRC provides resources and activities to victims including basic trauma training, free food markets, and even yoga for trauma recovery.
This limited edition 14K gold plated pendant contains the brand's signature EleVen logo printed on the front, and the proceeds from the pendent go to the Williams' Sister Fund in support of the Yetunde Price Resource Center.
The Yetunde Price Resource Center aims to work with partner organizations, offering programs to help promote healing individually and as a community. For areas where there is an insufficient amount of resources for victims of indirect or direct gun violence, the YPRC assists to create them.
If you're someone looking for a special gift with a meaning behind it, this is a great contender. The EleVen by Venus 14K Pendent officially launches today, and you can get one for a nice $35. It's limited edition, so once they're gone, it's a wrap.
If you want to continue to learn more about the YPRC and its mission or spread some love to donate, you can go to the organization's site. To be a really good gift-giver tis this holiday season, giving back is kind of a no-brainer.