Yes, You Can Get A Lobster Roll At McDonalds Now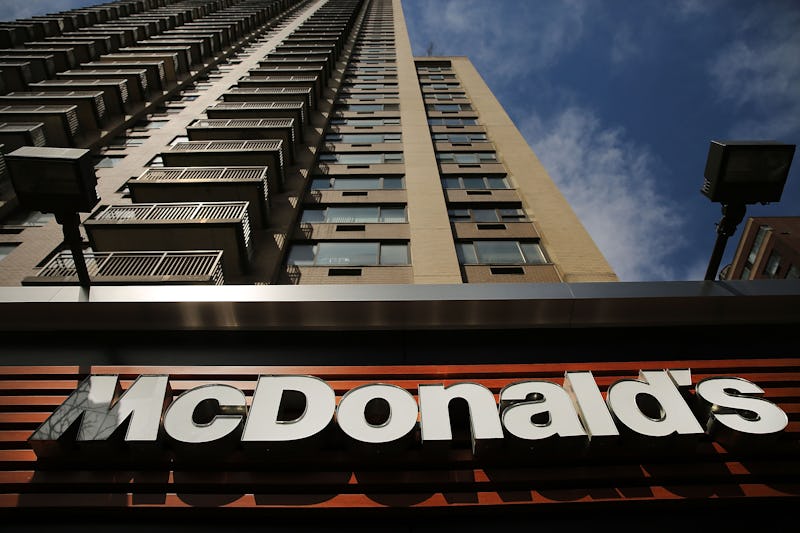 Spencer Platt/Getty Images News/Getty Images
Just in time for peak lobster season, McDonalds is hitting us all with a menu update that you're going to want to get your claws on. Yes, that's right: you'll want to know where to get McDonald's lobster roll, because this fan favorite from summers past is officially back on the menu for a limited time. However, as with all good news, there's a catch. (Wow, didn't realize how easy it was to crack lobster puns!)
Because the item is made with local ingredients, it's only available from July through mid-August 2017 in Maine, New Hampshire, Vermont, Rhode Island, Massachusetts (except locations near the Albany border), and Connecticut (except Fairfield County). And while it's sad that it's only around for a few weeks, it's what McDonald's has to do to ensure ultimate freshness. So if you happen to live in one of those states, lucky you: go get it as fast as you can! And if you don't, you might want to consider taking a road trip because the sandwich is only $8.99. Compared to the standard $20 restaurant lobster rolls, it's beyond a major steal. If you think about it, it's essentially two for the price of one. Plus, it's all the same flavors you've come to love and expect from a restaurant — so why go anywhere else this summer?
The sandwich is on a soft, toasted, buttery roll, dressed in mayo, salt and pepper, and on top of a bed of shredded lettuce. It's every bit the real deal for a just a few bucks, and not much more than a standard hamburger. And, you can get your favorite fries on the side. So basically, there's no difference between this lobster roll and your favorite restaurant or seaside lobster roll, and if you check it out on social media, it's just as plump and full and mouth-watering as it is in the official press photos. So back to that road trip idea, anyone? I'll chip in for gas. If you need some more convincing, check out these photos of lucky eaters who have already got a chance to try it out:
Oh So Meaty
It's pretty packed with fresh lobster meat! Not at all wimpy or skimpy!
Perfectly Toasted Buns
Look at those buns tho! Perfectly buttery and toasted for optimal texture and crunch.
With A Side Of Fries
You can't have a lobster roll without fries, I mean really! Besides, everyone knows that McDonalds fries are amazing anyway.
That Claw Meat Tho
There's a whole claw in there! This is a totally a legit lobster roll, it's got all the meat and fixings that you'd want. Now, if you'll excuse me, I happen to be drooling.