How To Get Free Doughnuts On National Doughnut Day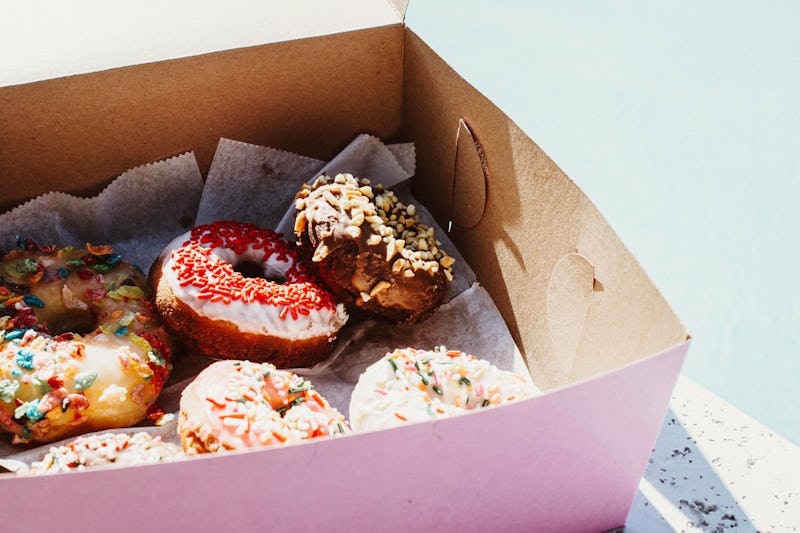 Nicole Katharina Schober / EyeEm/EyeEm/Getty Images
Say what you will about the appeal of other breakfast pastries — for any sugar addict, doughnuts are clearly the superior choice. Why else would National Doughnut Day exist? This year, the sweetest unofficial holiday is taking place on Friday, Jun. 2. If you don't have a countdown to Doughnut Day tacked on your bedroom wall, consider this your reminder that it's right around the corner.
The obvious next question is where you can get free doughnuts on this hallowed occasion, because if ever was a reason to snag breakfast on your way to work, it's National Doughnut Day. While you're at it, you might as well stop by a bakery on your way back from work, and is that another doughnut shop down the street? Well, you obviously have to swing by there, too.
Plenty of national chains are offering free doughnuts on Friday, and local bakeries may be participating as well. Even places that aren't giving out doughnuts willy-nilly may have discounts or deals. Basically, if you haven't consumed more pastries than you thought humanly possible by the end National Doughnut Day, you need to reevaluate your priorities.
But enough talk. Here's where you can find free doughnuts on Jun. 2.