Where To Get Free Pizza On National Pizza Day 2018 So You Can Celebrate Properly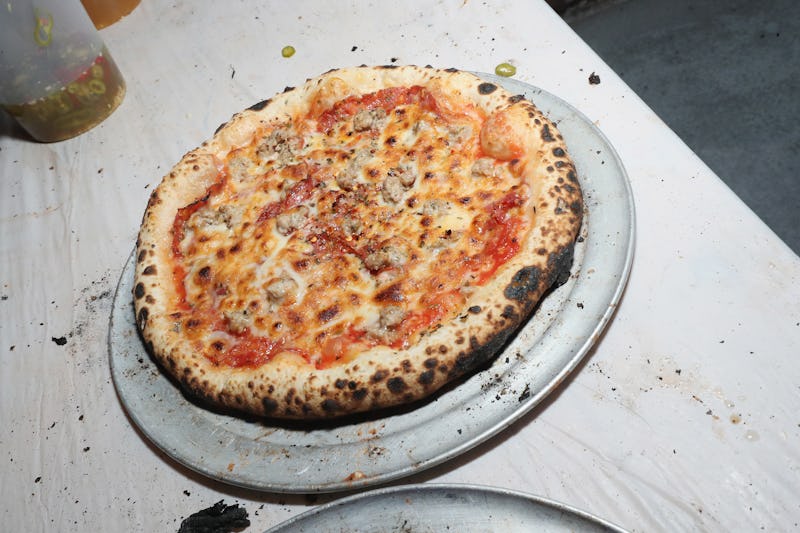 Cindy Ord/Getty Images Entertainment/Getty Images
Pizza is a national treasure and a way of life for most people. Personally, pizza was there for me after every big soccer game in elementary school, after breakups, after makeups, for late-night eats (I'm looking at you Artichoke Pizza), for hangovers (again, looking at you, Artichoke) and, well — everything in between. In other words, pizza and me go way back. So, it should go without saying that I am stoked to celebrate the one day of the year entirely dedicated to it, National Pizza Day, on Feb. 9, 2018 properly: By eating pizza. Like so many food and drink-related holidays, it's worth knowing where you can get free pizza on National Pizza Day, so you can make the most of the holiday and honor the best food ever created.
Fun fact about pizza: according to a 2014 study by the US Department of Agriculture (USDA) called Consumption of Pizza (great name), "about one in eight Americans consume pizza on any given day." I'm no mathematician by any means, but even I can confidently say that sounds like a lot of people eating a lot of pizza. (I can also confidently say I am one of those one in eight Americans.)
So, celebrating National Pizza Day kind of sounds like something most Americans will be able to get behind — and luckily, I've got the deets on where you can snag some, as well as save some serious dough. (Get it?) Happy National Pizza day!
CauliPower
If you haven't tried the delicious cauliflower pizza brand also known as CauliPower yet, then you're in for a treat. Not only is the crust GF, but it's also delicious. And, in honor of National Pizza Day, CauliPower is offering a buy-two-get-one-free deal between Feb. 9 and Feb. 14 at major retailers like Safeway/Albertson's, Whole Foods, and Walmart. You can print the coupon here.
Pizza Hut
Even though the record for fastest touchdown wasn't broken during the Super Bowl last Sunday (which would have given all Pizza Hut Rewards members free Pizza) every Pizza Hut Rewards member can still score 30% off menu-priced pizza on National Pizza Day.
Round Table Pizza
Stop in for a free personal pizza at one of the more than 440 Round Table Pizza locations. You'll get your free personal pizza (cheese or pepperoni, dine-in only) with a Pepsi fountain drink purchase from 2 p.m. to 5 p.m. on Feb. 9. The offer is valid at participating locations only and the restaurant will also be raising funds for The Leukemia & Lymphoma Society in honor of its National Pizza Day celebration.
Pilot Flying J
Pilot Flying J is getting the National Pizza Day party started a day early on Feb. 8 by treating customers to free slices of from Feb. 8 through Feb. 10. Just download the myPilot app and look for the digital coupon for a free slice of PJ Fresh Pizza. It's redeemable at more than 250 Pilot and Flying J Travel Centers around the country.
Papa John's Pizza
Ok, not totally a freebie, but you can save 40 percent off an online order with coupon code "40PIZZA" at Papa John's this National Pizza Day.
Baskin Robbins
OK, so obviously, pizza and ice cream is the best combination ever. And, while they don't exactly serve pizza, Baskin-Robbins is participating in the spirit of National Pizza Day by offering free samples of their new Sweetheart Polar Pizza Ice Cream Treat from 3 p.m. to 7 p.m. on Feb. 9. This sweet icy pizza treat is made with brownies, ice cream, and marshmallow toppings.
If you're looking for more deals you should definitely check out some of you favorite pizza spots for other freebies on Friday.