Rihanna Just Wore Millennial Pink Sunglasses & Fans Are Obsessed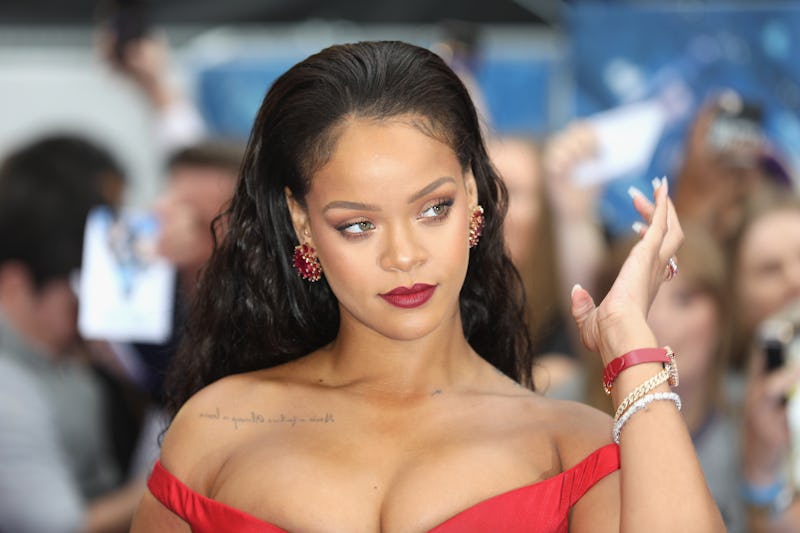 Tim P. Whitby/Getty Images Entertainment/Getty Images
Rihanna's promo tour for Valerian is ace. She is crushing red carpets every time she steps foot onto one. From her dramatic red frock in London to her beaded and belly-baring pink ensemble, she is gracing us with style goals at each event. Rihanna rocked a pair of millenial pink sunglasses at the Paris Valerian premiere and she pretty much just started a trend, because who wouldn't want to wear those? Where can you get Rihanna's pink shades from the French Valerian premiere?
Well, the exact pair that Rihanna actually wore might prove elusive. And you know, they would have matched the poufy pink Giambattista Valli gown she wore to the L.A. Valerian premiere.
That said, H&M has a super cheap, super cute, and super fun pair that will allow you to get in on the trend — because let's face it, Rihanna is essentially and effectively starting a millennial pink sunglasses trend because everything she does inspires copycatting— without breaking the bank.
Plus, if you get bored of pink shades or get frustrated because you can't wear 'em with everything, you can toss them, donate them, bequeath them, or forget about them since they only cost $6, yo!
Let's peep Rihanna's beaded and fringed outfit, which she accessorized with drop earrings and those shades. Fans of course were spewing declarations of love for her look in the Insta comments of her post.
The pink frames slay. Below are a variety of similar and stylish pink frames.
Vintage Retro Oval Frame, $9.95, southcoastshades.com
These oval frames are most similar to Rihanna's silhouette. They are retro, bold, and awesome. Also, you can't mess with that price. They are a stylish bargain but they look like a gem unearthed in a vintage store.
Pink Sunglasses, 5.99, hm.com
The H&M pair will get the job done through the summer and beyond.
Quay Super Girl, $60, pacsun.com
That said, if you want to invest in a pink pair that you plan to wear for a while, that's an option, too. Quay SuperGirls in pale pink are also viable AF for copying Rih's pink pair.
Pink Cat Eye Sunglasses, $16.99, target.com
This affordable pink pair is too cute. It's not an exact copy of Rih's oval and fashion-y silhouette, but they still rock.
I'm fully expecting pink shades to be a trend through the rest of the year.