'Sicario 2' May Star Men But The Original Movie Was ALL About One Badass Woman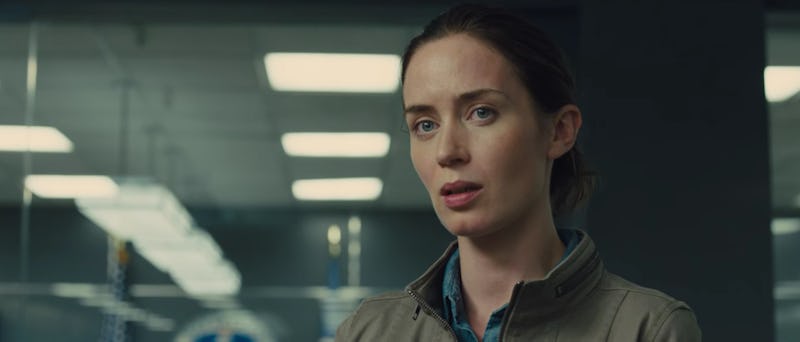 Lionsgate Films
Josh Brolin and Benicio del Toro are reuniting for the Sicario sequel Sicario: Day of the Soldado, coming out June 29. Sadly, Emily Blunt won't be in this one, but 100 Things To Do Before High School's Isabela Moner will join the cast as the daughter of a drug lord the men are tasked to kidnap. If you missed the first action thriller when it came out back in 2015, luckily there's still time to stream Sicario online ahead of the sequel's release.
The film used to be on Netflix, but was removed awhile back. It's sadly not on other major streaming platforms, but the good news is you can watch it on Amazon Video, YouTube, Google Play, and iTunes. It's also available to watch on FXNOW with a cable subscription. Even though it might seem pricey to spend $3.99 on a movie, the great thing is you don't have to worry about the streaming platform removing it later on if you want to watch it again.
And Sicario is absolutely worth a watch. For one thing, for those who are Marvel fans, seeing del Toro and Brolin on-screen together is a treat. They first appeared together in Guardians of the Galaxy and have continued to share screen time ever since. MCU Exchange even reported that before Avengers: Infinity War came out, Brolin let it slip that del Toro would reprise his role as The Collector, surprising fans. However, the duo ended up sharing less screen time in Infinity War than expected, so it's a good thing that in the Sicario movies, the actors get to show off much more of their on-screen chemistry.
Of course, the duo's Sicario 2 roles are much darker than their MCU ones. In the sequel, the CIA sends Matt Graver (Brolin) and Alejandro Gillick (del Toro) to Mexico City to take down Sicario terrorists smuggled by Mexican drug cartels. But their mission takes a drastic turn when Gillick is forced to question his morals and go rogue once again.
While the first film focused on Blunt's character, this one is focused on del Toro's, as he fights to protect the drug lord's daughter's Isabela. The switch has garnered some controversy, as the franchise shifted from celebrating a badass female protagonist to having her male co-star become the main star.
There's also the fact that although Isabela is the sequel's primary female character, she spends most of the film in peril, as Gillick tries to make sure she isn't killed. She may be the character at the root of the film's story, but she's primarily a vehicle for the character development of the men around her. When Isabela is kidnapped by Graver and Gillick, she instills goodness in them, making them feel uneasy about what to do with her once she becomes collateral damage.
While it would've been great to see Blunt reprise her role for the sequel, it's understandable why she's not featured in the new movie. It's a huge year for the actor; her recent thriller A Quiet Place was a massive success, and she'll play one of the most iconic characters from everyone's childhoods in Mary Poppins Returns this winter. Plus, she's currently filming Jungle Cruise with Dwayne Johnson. It's unlikely that Blunt had a ton of extra time on her hands.
If you want to see her kicking some serious butt in the first Sicario movie, though, it's definitely worth shelling out a few bucks to do so. Plus, while you wait for A Quiet Place to come to streaming, Sicario features Blunt in another thrilling role that'll keep you on the edge of your couch.