Where To Watch The World Cup Final, Because The US Women's Team Could Make History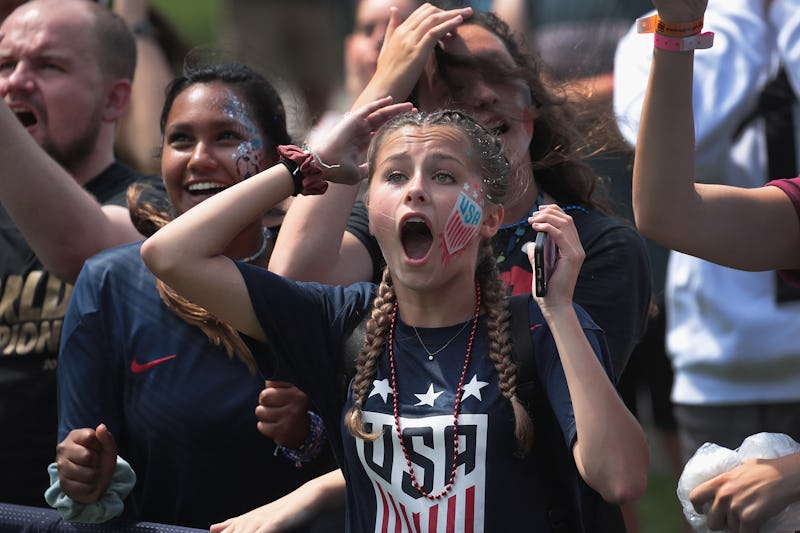 Scott Olson/Getty Images News/Getty Images
If you're one of the nearly 1 billion people projected to watch the Women's World Cup by the end of the final game then you must be pumped getting ready to watch the U.S. and the Netherlands battle it out on Sunday, July 7 at 11 am EST. But if you're part of this billion-strong population, you're also probably wondering where to watch the World Cup final to make sure you don't miss the action.
After watching the three-time World Cup champions beat out England 2-1 on Tuesday and the Netherlands defeat Sweden 1-0 on Wednesday, you know you're in for an impressive match.
Because this could potentially be the fourth World Cup win for the U.S. team, the Netherlands team is definitely the underdog in this match. Although this is the first time the Dutch have made it to the Women's World Cup finals, they've been showing they're here to stay with big wins recently against No. 5 Canada and No. 7 Japan. This means that no matter the winner, both the U.S. and Netherlands teams are going to bring their A-game and play a match audiences will never forget.
But if you're not really sure how to join in the billion-strong viewing party because you don't have Fox 1, don't panic. We've got you covered with streaming services where you can tune-in and enjoy.