These 'Doctor Who' Filming Locations Give SO Many Clues About What's To Come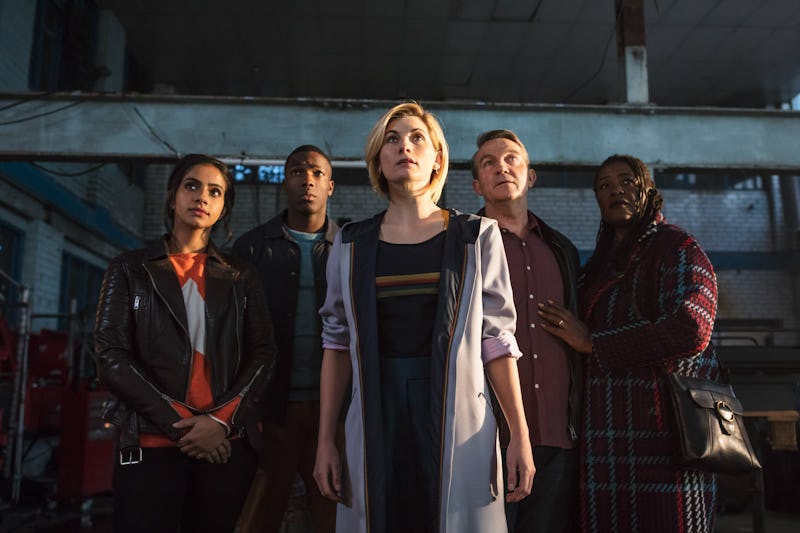 Sophie Mutevelian/BBC/BBC Studios
The premiere of Doctor Who series 11, featuring Jodie Whittaker in her first full episode as the Thirteenth Doctor, was a proper treat for northern Whovians. Why so? Well, most notably, it was set in Sheffield, where fans saw filming take place way back in November 2017. The new cast — also including Mandip Gill as Yasmin Khan, Tosin Cole as Ryan Sinclair, and Bradley Walsh as Graham O'Brien — have since been spotted filming from Cardiff to Cape Town. Want to walk in the footsteps of the Doctor? This is where Doctor Who was filmed in Sheffield and beyond.
Back in November 2017, Sheffield newspaper the Star reported filming taking place in the city, for what looks like the parking dispute scene that marked police officer Yasmin Khan's first appearance in the series. This might have been filmed on either Hunter House Road or Ecclesall Road, according to the Doncaster Free Press. In the same month, fans suspected filming was taking place at the HTC Plant in Meadowhall; it's probably safe to assume that was the set for the dizzying crane sequence near the end of the episode.
Things got a little less ambiguous in May, when the Tardis itself appeared outside Sheffield landmark Park Hill, as the Star reports. Whovians old and young flocked to the scene, according to the Radio Times, where Jodie Whittaker didn't hesitate to take photographs with fans. Cute!
Also in February, the Portsmouth News reported on filming taking place in the living museum Little Woodham, in the town of Gosport, Hampshire. The museum recreates a 17th century village — so presumably there's a period episode on the way. Studio scenes, meanwhile, were most likely filmed at the Roath Lock studios in Cardiff Bay, a facility specifically created for BBC dramas Doctor Who, Casualty, and Pobol y Cwm.
Not all of series 11 was shot in the UK, however. In January 2018, fans took photos of the cast in Cape Town, South Africa, as CultBox reports; one observer tweeted that the Kimberley Hotel was used for filming. Jodie Whittaker and Tosin Cole subsequently discussed their filming experience in Doctor Who Magazine, the Radio Times says. According to Whittaker, the cast spent three weeks in Cape Town, which she called "absolutely amazing."
"The ambition was huge and the landscapes there — you couldn't have got that here. But it required a lot of focus because we knew we had a lot to do in three weeks," Whittaker said. "We were working with a really great South African crew. They recommended things for us to do on our days off!"
Tosin Cole added that filming took place during a drought, requiring the cast and crew to take "two-minute showers." He told Doctor Who Magazine that "other than the water crisis, we had a really good time out there."
The Radio Times speculates that Cape Town will stand in for 1950s Alabama. Rumours have circled for months that this series of Doctor Who will incorporate a major figure of the U.S. Civil Rights Movement: Rosa Parks, whose arrest for refusing to give up her seat for a white passenger sparked the Montgomery Bus Boycott. The BBC declined to comment on any speculation.
Plenty of filming locations for Whovians to visit then, whether you're up for a Megabus to Gosport or an eleven-hour flight to Cape Town. Alternatively, the lucky residents of Sheffield might just want to pop round the corner.