Here Are All The Filming Locations Of Amazon's 'Tom Clancy's Jack Ryan'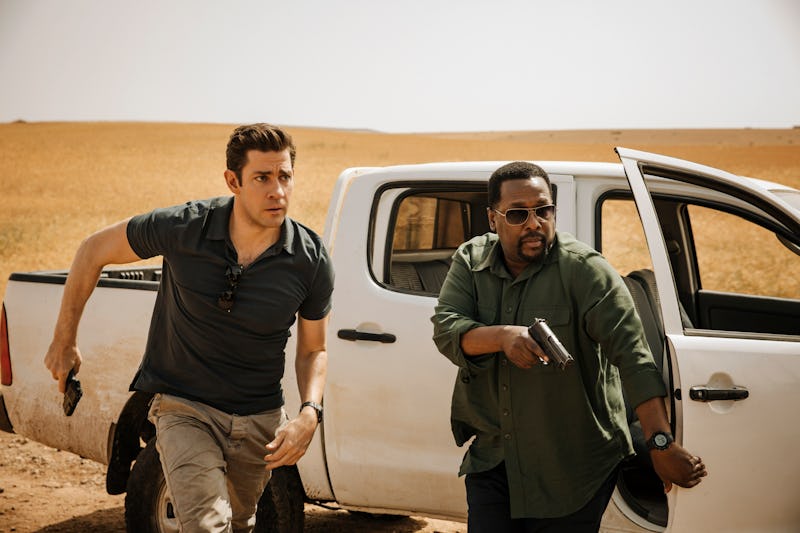 Philippe Bossé/Amazon
Everyone's dad will be thrilled to know that Tom Clancy's Jack Ryan is set to debut Friday, Aug. 31 on Amazon Prime. Clancy was a ubiquitous political thriller novelist, whose books were turned into blockbuster hits like The Hunt for Red October, Clear and Present Danger, and The Sum of All Fears. And now, his fictional character is coming to the silver screen. John Krasinski stars as Jack Ryan, a paper-pushing analyst who is forced to go out in the field. Audiences will see the CIA agent jetting to various overseas locales, which begs the question: Where was Jack Ryan filmed?
Or, perhaps more accurately, where wasn't it filmed? In the trailer, audiences see snippets of Jack in Washington, D.C., Yemen, and Paris, among others. However, does that mean they actually filmed there? According to the Baltimore Sun, the Jack Ryan crew were spotted filming in Maryland, Virginia, and Washington, D.C. What's more, Krasinski posted several Instagrams while filming in the nation's capital, such as rowing on the Potomac River, which audiences catch a glimpse of in the trailer. There's even an action shot of Krasinski running out of a U.S. Coast Guard helicopter. What's more, a fan ran into The Office actor while he was filming Jack Ryan in Georgetown, a neighborhood in D.C.
However, per the same Baltimore Sun article, the bulk of the filming was done in Canada. What's more, according to a 2016 article from the Toronto Star, Jack Ryan was set to film in Quebec. But that still doesn't explain the scenes depicting Ryan and his boss, James Greer (Wendell Pierce), in more desert-looking locales. "I can't go to Yemen," Jack tells James in the trailer. "I'm an analyst! I don't interrogate people — I write reports!" James, however, is unmoved and tells Jack to get on the plane.
So where were these scenes actually filmed? According to KFTV, they filmed in Morocco, which stands in for Yemen, Iraq, Turkey, and Syria in Jack Ryan. "Everything was filmed within a manageable distance of Marrakech," Christian McWilliams, the Morocco supervising location manager, told KFTV. "We set up different types of markets for scenes set in Iraq and Yemen, used the beaches for Turkey, and deserts became stand-ins for Syria." And per the Moroccan Centre for Cinematography (CCM), Jack Ryan's Morocco shoots were located in Marrakech, Tensift El Haouz, Essaouira, El Jadida, and Chichaoua. Additionally, these shoots lasted from March to July 2017, per the CCM.
What's more, Carlton Cuse, Jack Ryan's co-creator, told the Hollywood Reporter that he and fellow showrunner Graham Roland decided to go with Amazon because of its incredible resources, which allowed them extravagant shooting budgets. "On the downside, it was logistically challenging to work on all eight episodes that we're shooting 
on three continents with four different directors and often two — and sometimes three — crews shooting at once," Cuse told the Hollywood Reporter.
In addition, Roland told TV Insider at this year's San Diego Comic-Con, "Everyone involved with the project recognized that if we were going to do a Tom Clancy Jack Ryan franchise and follow the five movies that had come before and all the great books, that we had to actually go to the places. We couldn't cheat the audience." So when audiences see Jack Ryan biking around D.C. or sprinting through Paris, it's likely the real deal.
Fortunately for Tom Clancy aficionados, Jack Ryan has already been renewed for Season 2, per Deadline, which will film partially in Colombia. So fans can rest assured that the show's authentic location shoots will continue into later seasons. But as for what lies in store for Jack in all of these overseas locales, audiences will have to wait until Friday to find out for themselves.