Why Prince Harry & Megan Markle's Kids Won't Ever Be Princes Or Princesses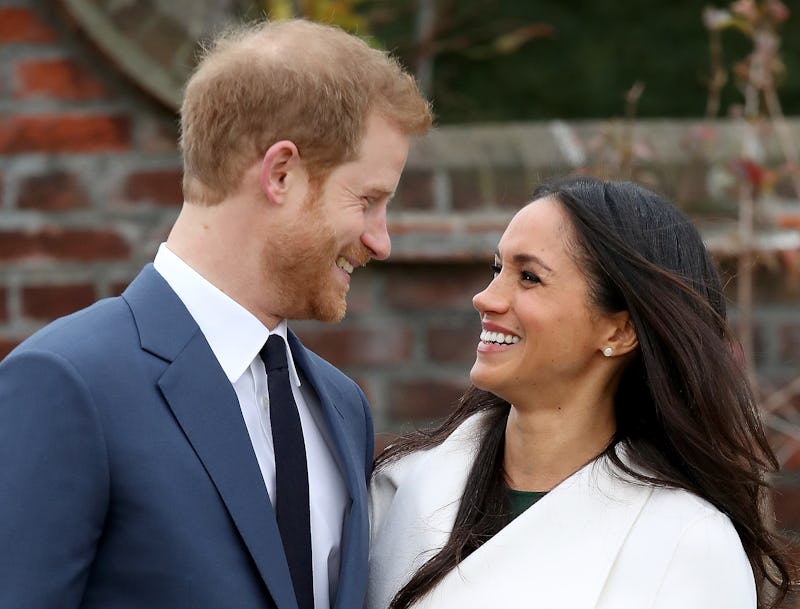 Chris Jackson/Getty Images Entertainment/Getty Images
There's soon to be a new member of the British royal family. Prince Harry and Meghan Markle's engagement was announced on Monday, bringing up all sorts of questions regarding the monarchy's rules around marriages, titles, and where Harry and Markle's kids fall in order of succession to the British throne. The short answer is that they don't.
Until recently, the succession to the British throne long had been based on primogeniture. The oldest son would get first dibs; a girl could only inherit the title and throne if she didn't have any brothers, as was the case with Queen Elizabeth II, the current Queen of England. In the case of Prince Charles and Diana, Princess of Wales, their oldest child is a boy, Prince William. So when Queen Elizabeth dies or abdicates, Charles is first in line, followed by William.
Now that William and his wife Kate have children, Harry is farther from the throne. He doesn't enter the line of succession until after Prince George, Princess Charlotte and the couple's third child, due in April 2018. So Harry is currently fifth in line, and any child of his and Markle's would be sixth in line, and so on. These numbers are of course revisable downwards for every child that William and Kate may have in the future.
One change to note is that as of 2013, the Succession to the Crown Act removed male bias from the line of succession. Since the birth sex of children in the royal family no longer affects their places in line, if Princess Charlotte had been born before Prince George, she would get to be queen before he would get to be king. That means that Harry and Markle's children also would ascend to the crown in birth order, no matter their gender. It's highly unlikely that'll ever happen, though, given how distant they are from the throne.
There are other important aspects of the 2013 law that affect the couple. Those first through sixth in line to the throne need the Queen's permission to marry. That means that Queen Elizabeth's approval, as espoused on Twitter today, is legitimate (or at least you'd think so given that she has veto power). "The Queen and The Duke of Edinburgh are delighted for the couple and wish them every happiness," the @RoyalFamily Twitter account sent out Monday morning.
The act also did away with a limit on heirs to the throne marrying Roman Catholics. The original Act of Settlement, which was in place for hundreds of years, said that anyone who was Roman Catholic or married a Roman Catholic would be barred from taking the throne. The 2013 law change cleared things up for Harry in this case: Markle is not known to be Catholic, but she did attend a Roman Catholic high school, which could have muddied the waters for some royals.
Another confusing issue is the title Markle will receive, although the recent law change doesn't affect that. Once they're married, Markle will receive the title Her Royal Highness, Princess Henry of Wales (but not Princess Meghan — you have to be born into the royal family for that honor). Note that Harry's official name is Henry.
If Harry is given another title, such as Duke of Sussex, as some British newspapers expect, she may also be referred to as the Duchess of Sussex, or the Duchess of whatever title it is that Harry is given by the Queen (and accepts). Tradition says that the Queen bestows a title such as this one when a royal gets married. The couple's children, however, probably will never inherit a prince or princess title themselves.