Here's Where Tropical Depression Harvey Might Hit In The United States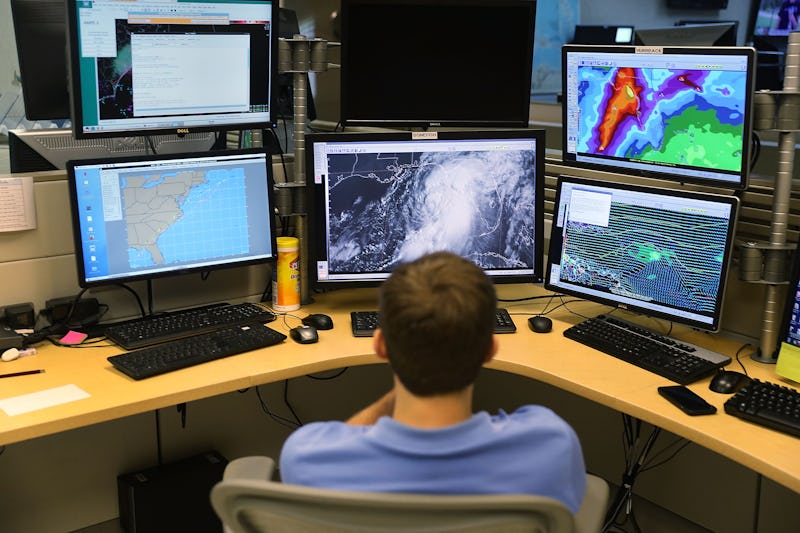 Joe Raedle/Getty Images News/Getty Images
This weekend, a major storm that's been brewing in the Gulf of Mexico is expected to hit along the southeast coast of the United States. As such, and with the storm's recent surge in strength, it's important to be aware of where it's expected to touch down. In other words, where will tropical depression Harvey hit this weekend, and who needs to be most vigilant about their safety and disaster preparedness?
The answer, according to current projections, is that the tropical depression is expected to make its way up from the gulf toward Texas on Friday, in all likelihood bringing a tremendous downpour of rain with it. The storms could last until early next week, as late as Tuesday.
As detailed by ABC News, the U.S. National Hurricane Center is warning people across eastern Texas, Louisiana, and Mississippi to prepare for heavy rainfall as a result of Harvey, with the Texas coast as well as southwest Louisiana projected to see ten to 15 inches of rainfall by Tuesday. For a useful visual demonstration of where it's expected to hit, the image embedded below comes from the National Hurricane Center's Atlantic operations division.
Based on the projected path above, Houston is the major city that would be closest to the center of the storm, although after slamming into the coast it would also hit Dallas, and reach into Louisiana and Mississippi as well. It's the Texas coast, however, looks to be the place most in the direct path of the tropical depression.
According to The Washington Post, the National Hurricane Center also noted the possibility of areas getting "isolated maximum amounts" of 20 inches of rain, as well.
Harvey is expected to produce total rain accumulations of 10 to 15 inches with isolated maximum amounts of 20 inches over the middle and upper Texas coast and southwest Louisiana through next Tuesday.
So, in short, if you're living along the middle-to-upper parts of the Texas coastline, in southwest Louisiana, or Mississippi, you need to be aware of the risks as the weekend approaches. The possibility that Harvey will grow into a hurricane is still on the table, as well, which would mean an even greater degree of threat, and an even greater premium placed on having a safe place to stay.
It's worth noting that conditions and trajectories with rolling storms like these can change, so if you're living anywhere in or around the affected region, you should stay updated regarding the likely path of tropical depression Harvey. If you're ever needing new information, you can always check out the National Hurricane Center's official website, which will be closely following the storm.