Tropical Storm Cindy Is Heading Toward The Gulf Coast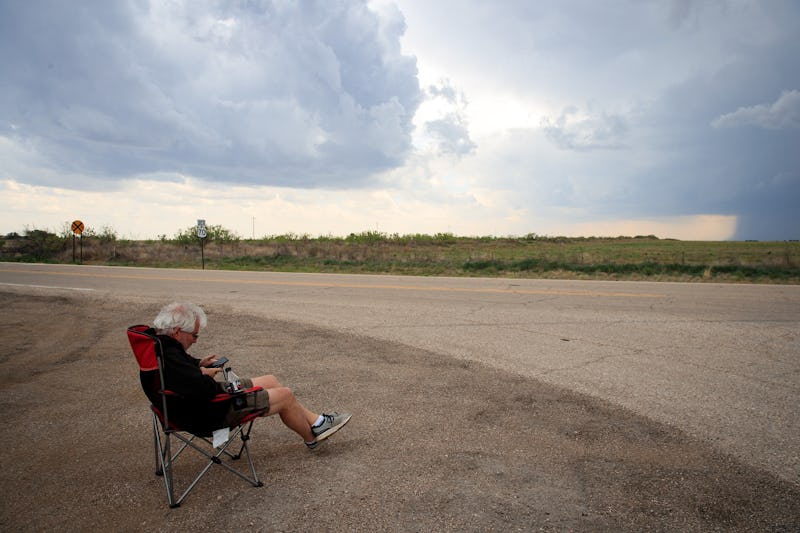 Drew Angerer/Getty Images News/Getty Images
A storm system in the Gulf of Mexico was officially named and categorized as a tropical storm on Tuesday. Tropical Storm Cindy is headed northwest and is expected to impact much of the U.S. Gulf Coast with substantial rain and potential flooding.
According to CNN, the National Hurricane Center began issuing storm warnings and watches across the region on Monday afternoon, even before the storm was named and classified. These early storm warnings were possible due to a new policy at the Center that allows experts to issue warnings and watches if a storm could form and hit land within 48 hours — even if it has not yet been named. Thus, homeowners and business owners have thankfully been on alert about Cindy since Monday, even before the storm was officially classified.
Cindy is moving northwest from the Gulf of Mexico and is expected to arrive on the U.S. Gulf Coast by late Wednesday or early Thursday. The Weather Channel noted that the storm's effects will likely be felt all along the southern coast, spanning from Houston to the Florida panhandle. However, weather experts said it is important in this case to not focus intensively on the storm's projected path (aka the tracking of the storm's center), since its impacts are expected to be far-reaching and not just near the center of the cyclone.
The Weather Channel reported that the most significant effect of the storm will likely be substantial rain and potential flooding. Tornados and storm surge (rising of the sea) are possible but less likely. Much of the Gulf Coast, from Texas to Florida, can expect up to five inches of rain. Furthermore, flash flood watches have also been issued for much of the same area, which could last until midweek due to a "stalled storm front" in the South that could result in prolonged heavy rain.
The storm has already had substantial impacts, even before landfall. Flooding due to heavy rainfall has been reported in Atlanta and hundreds of flights were delayed on Tuesday at Hartsfield-Jackson International Airport. Moreover, Alabama's governor declared a state-of-emergency on Tuesday morning as the state braced for the storm's impact. Dauphin Island, which is south of Mobile, had already reported flooding over its main road on Tuesday.
AccuWeather reported that, as the storm moves toward land and rainfall increases, cities that could experience flooding problems include Tallahassee, Florida; Mobile, Alabama; Biloxi, Mississippi; and New Orleans, Baton Rouge, and Lake Charles in Louisiana, among others.
For those in Cindy's path, experts encourage preparation and attentiveness. According to the Red Cross, via New Orleans' Times-Picayune, pay attention to local weather reports and emergency notifications to keep abreast of the status of the storm and conditions in your area. Moreover, take measures to protect your car and home from flooding, especially if your car is parked on a street that is susceptible to floodwaters. Finally, in anticipation of potential road blockages, store closures, and power outages, make an emergency kit which includes necessary medical supplies, alternative power sources, and enough food and water for several days.
As Tropical Storm Cindy nears landfall, Gulf Coast residents and officials are doing what is necessary to prepare for its arrival. Hopefully everyone will remain safe throughout the duration of the storm.