Melania Just Unveiled The White House Christmas Decorations & The Response Has Been Epic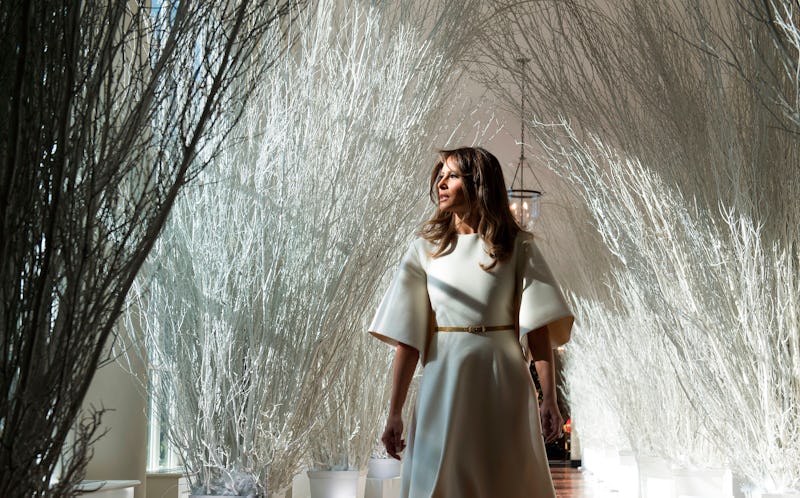 SAUL LOEB/AFP/Getty Images
Melania Trump took to Twitter on Monday to unveil the official White House holiday decorations — decorations that she and her husband might not see that much of, considering the Trumps traditionally spend Christmas at their Mar-a-Lago resort in Florida. In her Monday tweet, Melania wrote:
The decorations are up! @WhiteHouse is ready to celebrate! Wishing you a Merry Christmas & joyous holiday season!
A video attached to the tweet shows the White House full of flocked Christmas trees, wreaths, a nativity scene, and a 350-pound gingerbread version of the house itself.
This year's theme is "Time-Honored Traditions," according to the White House. One of the displays is meant to be a tribute to Gold Star Families, and includes a tree that has "been decorated with gold stars and patriotic ribbon." In addition, White House visitors are "encouraged to write a message to their loved ones who are on duty or abroad on the digital tablets provided."
It's an interesting group to draw attention to, considering President Trump's many controversies regarding Gold Star Families. During the 2016 presidential campaign, Trump feuded with the father of a fallen soldier, Khizr Khan, over his calls for a temporary ban on Muslims coming into the United States. In a interview with Vocativ (held in December 2015 around the time Trump announced plans for a Muslim ban), Khan said that Trump's values did not represent American values.
This October, Trump publicly sparred with the widow of fallen soldier Sgt. La David Johnson after she claimed that the president forgot the soldier's name in a condolence call.
Other nods to tradition among this year's White House holiday decorations are table settings from the Reagan administration and President Roosevelt's 1886 edition of A Christmas Carol. According to the Associated Press, the completed decorations include:
71 wreaths, 53 Christmas trees, more than 18,000 lights, more than 12,000 ornaments, more than 3,100 yards (about 2800 meters) of ribbon and more than 1,000 feet (300 meters) of garland.
But at least one small part of this year's decorations has already raised eyebrows. As Business Insider reported Monday, a sprig of mistletoe has been criticized as a faux pas, as it's been hung in the midst of a number of sexual misconduct allegations on Capitol Hill. On a tour of the White House Monday morning, CNN's Kate Bennett tweeted a photo of the mistletoe in question, adding that it's a "new touch."
Several replies to the tweet noted the poor timing of the new addition — particularly as the President himself has been accused of sexual misconduct.
As Vogue notes, around 56 of the White House's 132 rooms are decorated for the holidays — a team effort and largely the work of FLOTUS' social secretary and staff, "design professionals, White House ushers and butlers, and over 100 volunteers from states across the union."
Though the First Lady has overseen the decorations for the family's first Christmas in the White House, it would be surprising if the Trumps chose to spend the holiday season in D.C. The now-President has spent Christmas in Florida, at his own private Mar-a-Lago club, for the past 20 years.
A recent CNN report revealed that aides worry about Trump's time at the club, however, as he tends to have a "lot of time on his hands" — time that, more often than not, he uses to tweet. During his recent Thanksgiving stay at Mar-a-Lago, the President went on a Twitter spree, covering everything from his support for accused pedophile Roy Moore to his hatred of CNN.
The Trumps have not officially announced their holiday plans, though Trump frequently refers to Mar-a-Lago as "the winter White House." Bustle has reached out to the White House press office for comment on the first family's holiday plans.