Donna Rice Found Her Calling After The Gary Hart Scandal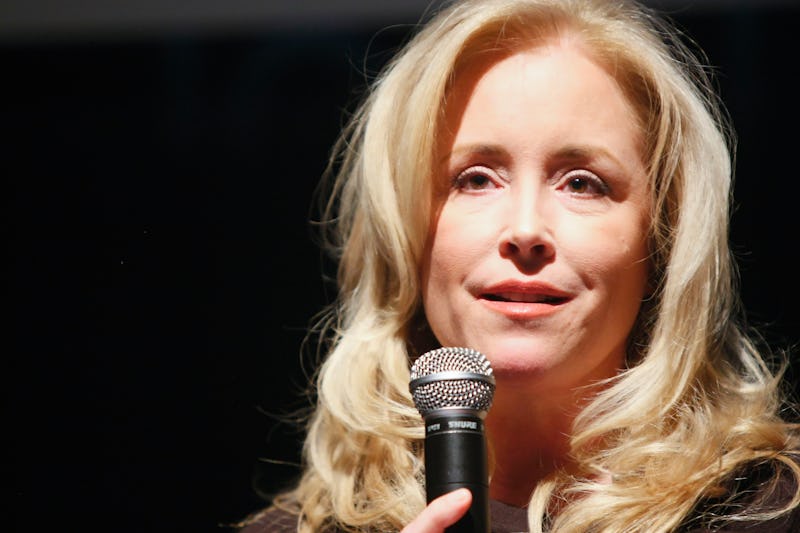 Riccardo S. Savi/Getty Images Entertainment/Getty Images
The new Hugh Jackman political drama The Front Runner features the former X-Men star as politician Gary Hart, a Colorado senator who was seen as the front runner for the Democratic nomination for president in 1988, until a sex scandal brought down his campaign. But Hart wasn't the only one who suffered due to the allegations of an affair. Donna Rice, the woman with whom he was accused of cheating on his wife, also went through a rough ordeal because of the scandal. So where is Donna Rice in 2018, and is she still feeling the effects from the tabloid frenzy of 30 years ago?
Rice, who married Jack Hughes in 1994 and now goes by Donna Rice Hughes, per The Washington Post, was accused of having a sexual affair with married presidential candidate Gary Hart in 1987. Both of them denied the affair and continue to, but the damage was done. Hart suspended his campaign, while Rice was dragged through the media and became scandalized because of it. Inspired by her own experience as a victim of date rape after college (this incident occurred several years before the Hart scandal, Salvo reported), Rice eventually got a job with the company Enough Is Enough, which advocates for child safety online, mainly by attempting to restrict internet pornography. She has served as president of the company for over two decades now, and continues pursuing her goals of pornography regulation and child internet safety.
In the lead up to The Front Runner's release, the now-60-year-old Rice Hughes spoke with People Magazine about the lasting effect the Hart scandal has had on her life. "I felt I was put on trial," she told People of the scandal. "The media fixated on me for the next 18 months. My reputation was destroyed worldwide." Rice Hughes, who is now a grandmother to three, also revealed to People that she suffers from Post-Traumatic Stress Disorder caused by the scandal.
"What's interesting with a traumatic event is that it often happens once and then you're left with it. In my case, it was over and over and over and over again and for a long time," she said. "So, there's not just one thing and the trauma is deep. I did have PTSD. I just didn't know what that was. Things can trigger feeling out of control — being blindsided can trigger that, trusting people and they turn out not to be trustworthy." Recently, those feelings where triggered when she heard the news that the scandal was to be the basis for a feature film.
However, Rice Hughes saw an advanced screening of the film and had those feelings alleviated, as she appreciated the way the film handled her character. "It's been 31 years, but as a 60-year-old grandmother watching it on film now, I was moved with great compassion for the 29-year-old person that was me," she told People. "I appreciate how Jason (Reitman, director) treated my character with compassion and dignity."
Rice Hughes, a self-titled conservative Christian, has also been involved with politics in recent years. Leading up to the 2016 presidential election, she wrote an op-ed for Fox News where she declared her support for Donald Trump, stating, "God is in the business of using flawed people who (sic) He humbled and molded into great leaders." She has also chimed in on Twitter on recent political controversies, including tweeting out conspiracy theories about Brett Kavanaugh accuser Christine Blasey Ford, and the ongoing Florida recount.
Clearly Donna Rice Hughes is still feeling the effects of the Gary Hart scandal, but at least in her eyes, The Front Runner didn't contribute further to her trauma.