Here's What 'The Front Runner' Subject Gary Hart Did After Scandal Ended His Campaign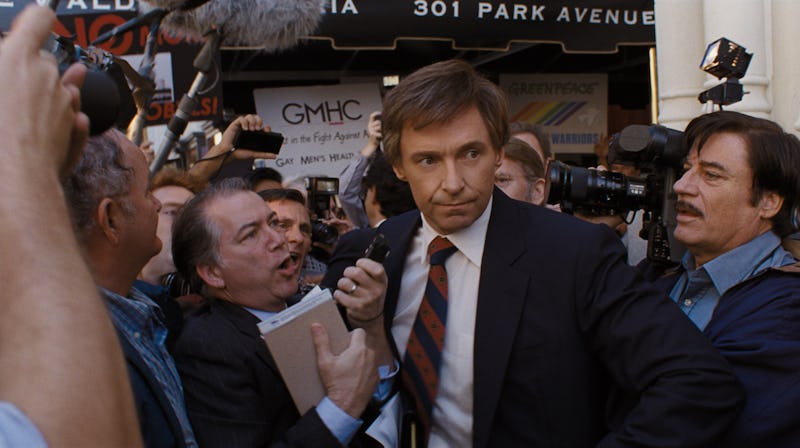 Frank Masi/SMPSP
In Jason Reitman's new film The Front Runner, Hugh Jackman plays Gary Hart, a senator who ran for president ahead of the 1988 election, until claims that he was cheating on his wife hit the news, the perception of him changed, and he dropped out. It's been 30 years since the scandal, so if you're wondering where the real Gary Hart is in 2018, here's what he's been up to.
First, if you haven't seen the movie yet and aren't up on the 1988 Democratic presidential primary, here's what went down: Hart, a Colorado senator, was thought to be the front runner for the Democratic nomination for president leading up to the election. But, in 1987, only three weeks into his candidacy, the Miami Herald investigated rumors that he wasn't faithful to his wife, staked him out, and confronted him about a supposed relationship with a woman named Donna Rice. Once the newspaper's story was published, things took off from there with much more news coverage, and Hart ended up withdrawing from the race in May 1987. He later reentered in December, but withdrew again three months later after the primaries began, per The New York Times. As for the outcome, Michael Dukakis became the Democratic nominee and lost the general election to George H. W. Bush.
After dropping out of the race, Hart left politics. Per the AP, he returned to practicing law after the election, and in 2012 was named a senior strategic adviser at the law firm McKenna Long & Aldridge, according to the Denver Business Journal. He also worked as a corporate advisor, according to his bio on Huffington Post, for which he has written numerous articles.
Hart also held positions during the Obama administration. In 2014, he was named the Special Envoy to Northern Ireland by Secretary of State John Kerry. He served on advisory boards during Obama's presidency, as well, including being vice-chair of the Secretary of Homeland Security's Advisory Council. He wrote several books over the years, including novels, works about American politics, and a biography of James Monroe, and is a Scholar in Residence at the University of Colorado, Denver. He has a blog, too, called Matters of Principle.
As for his personal life, Hart, who is now 81, is still married to his wife, Lee Ludwig Hart (played by Vera Farmiga in the film), and has been since 1958. They have two children, Andrea and John.
When he was interviewed for the New York Times Magazine in 2014, Lee put forth that Hart might feel guilty about not becoming president. "It's what he could have done for this country that I think bothers him to this very day," she said. In response, he looked, dramatically, at how things might have been different in the long run had he ended up defeating the elder Bush back in '88: "Well, at the very least, George W. Bush wouldn't have been president. And we wouldn't have invaded Iraq. And a lot of people would be alive who are dead. You have to live with that, you know?"
Hart has seen The Front Runner, and according to what Reitman told Yahoo!, "The first thing Gary said [after watching] was, 'Hugh Jackman is such a good actor' and then he said, 'Do I really talk like that?' His wife said, 'Yes, darling. That's exactly how you speak.'"
If you're interested in seeing Jackman take on the role, and learning more about what went down when a cheating scandal seriously shook politics for the first time, The Front Runner is in select theaters now and expands to theaters nationwide on Nov. 21.