This True Crime Story About A Mom Who Drove Her Minivan To Rob Banks Is So Wild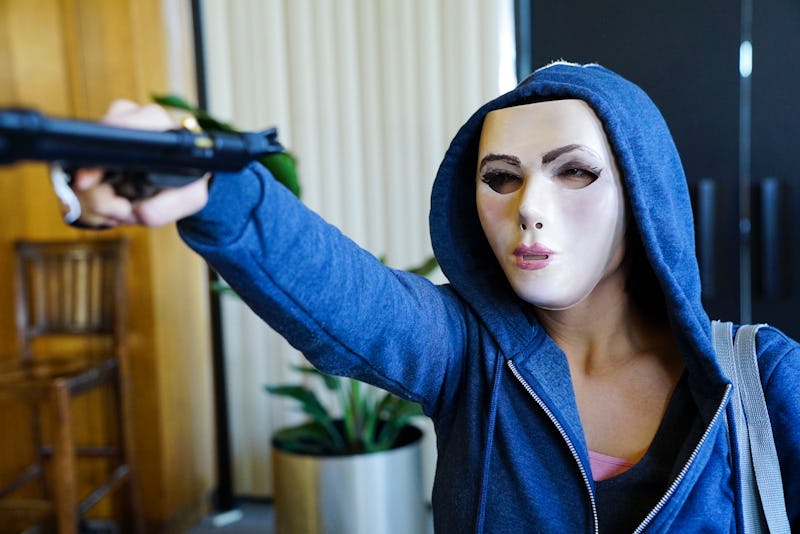 Sonja Flemming / CBS
How has it taken so long for a true crime series to delve into a branch of criminal activity that's dominated entirely by women? CBS's new docuseries Pink Collar Crimes premieres on Saturday, July 28 at 8 p.m. ET. In each episode, the show's lead investigator Marcia Clark (yes, that Marcia Clark) shines a light on the intriguing cases of real women who break the law, often for complex reasons, like helping their families out of money trouble. The pilot focuses on particular case from 2009: Roxanne Pennock, aka "the Minivan Mom Bank Robber." It's been nearly a decade since Pennock was convicted for her crimes, per NBC 7 San Diego, so where is she now?
These days, Pennock is flying below the radar, staying out of the spotlight — save for her appearance on Pink Collar Crimes. It's likely that she and her family have had enough media attention after the ordeal surrounding her crime spree.
When it comes to what actually happened, no one sums it up better than Pennock herself. In the trailer for Pink Collar Crimes, she explains her side of the story matter-of-factly. "I took my kids to school like a normal mom," she says to the camera, "and on my way home I stopped and robbed a bank."
According to the San Diego Union-Tribune, Pennock, 37, robbed four banks in total between Sept. 13 and Nov. 6, 2009. The court reports detail that the married mother of five had lied about her sales at work, ultimately earning an extra $4,000 in commission. When her boss discovered what she'd done, she promised to repay the money, so long as he didn't take legal action against her. Thus she decided to hatch the plan for the initial robbery.
One of Pennock's neighbors, Lisa Leete, told NBC 7 San Diego that she thought the mother must have been in a particularly tough situation to resort to such drastic measures. "I'm sure she was feeling some kind of real desperation and maybe this was her only option."
In an interview with The Kansas City Star, Pink Collar Crimes creator Sharon Liese explained that Pennock's case wholly represents what the series is about. "We looked at the psychology of crime while we were doing the show," she said. "It seems men tend to do these crimes for greed, and women do it for different reasons. For Roxanne, she was trying to save her family."
All told, Roxanne only managed to walk away with about $2,000, reported the San Diego Union-Tribune. She reportedly returned to her office after the first robbery and handed the money over to her boss.
ABC 10 News reported that Pennock wore a mask and brandished a BB gun she had purchased from Wal-Mart during that first robbery. In her subsequent heists, Pennock left the gun behind and used a note instead. If she had used a real firearm, the judge told her, her sentence could have been much, much worse.
On March 2, 2010, San Diego Superior Court Judge Kathleen Lewis sentenced Pennock to three years and eight months in prison for robbing two banks in Poway, a wealthy suburb of San Diego, reports the San Diego Union-Tribune. Pennock also received a two-year sentence for the two banks she robbed in Temecula, another California suburb. However, she was able serve both sentences concurrently in a minimum security facility where inmates are trained to fight wildfires.
By now, Pennock has long since served her sentence.. She keeps a low profile on social media, which makes this appearance on Pink Collar Crimes all the more interesting. It's her first real chance to address the public since the days of her infamy in 2009 and 2010, and try to tell her side of the story.