Sarah Sanders Was Asked If Trump Said The N-Word & Her Response Wasn't "No"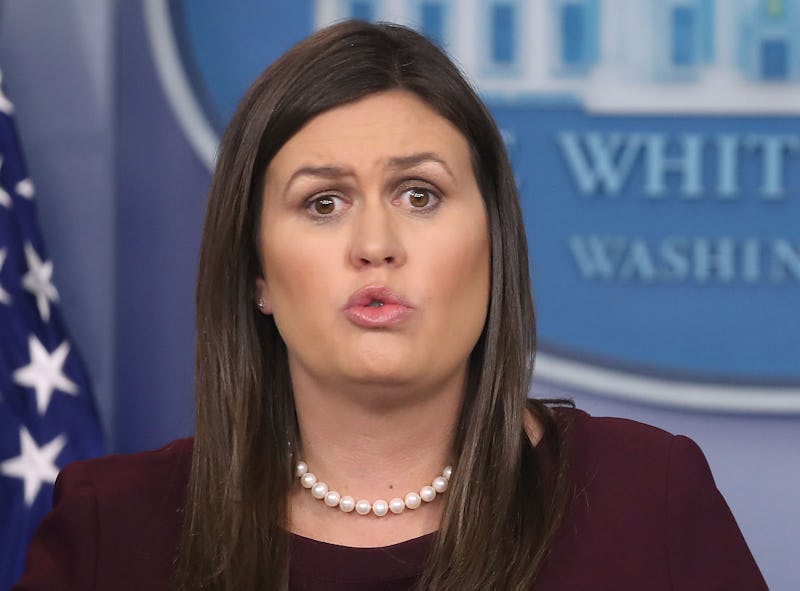 Mark Wilson/Getty Images News/Getty Images
At a press conference Tuesday, White House Press Secretary Sarah Hucakbee Sanders refused to guarantee that Americans will never hear a tape of President Trump saying the N-word, and similarly didn't guarantee that Trump had never spoken the racial slur.
"Have you asked the president if he's ever used the N-word?," NBC's Kristen Welker asked Sanders Tuesday.
"The president addressed that question directly via Twitter," Sanders replied. "I'd refer you back to him. I can certainly say I've never heard him use that term or anything similar."
"Can you stand at the podium and guarantee the American people they'll never hear Donald Trump utter the N-word on a recording in any context?," Welker asked in a follow-up.
"I can't guarantee anything," Sanders said. "But I can tell you that the president addressed this question directly. I can tell you that I've never heard it."
Unconfirmed rumors have swirled for years that there exists a recording of Trump saying the N-word from his days on The Apprentice, and those rumors were recently reignited by Omarosa Manigault-Newman, the former Apprentice star who Trump later hired to work in the White House. Trump has staunchly denied these reports, writing in a tweet Monday that "I don't have that word in my vocabulary, and never have."
Manigault Newman, who was fired from the White House under disputed circumstances in 2017 and has a memoir coming out about her time in Trump's administration, claimed earlier in the week that she's heard audio of Trump saying the N-word. She also alleged that she and other top Trump aides — specifically Katrina Pierson — discussed during the campaign how they would "spin" a situation wherein a hypothetical recording of Trump saying the word was released.
Pierson flatly denied that any such conversation ever took place, telling CBS News on Monday that "that did not happen." She added that "it sounds like [Manigault Newman is] writing a script for a movie."
The next day, however, Manigault Newman released audio to CBS News that appears to depict Pierson having that exact discussion.
"No, he said it," a person identified as Pierson says in the audio. "He said it. He's embarrassed." That person goes on to say that she's "trying to find at least what context it was used in to help us maybe try to figure out a way to spin it."
CBS News notes that it hasn't verified the authenticity of the recording. After it was released, however, Pierson backtracked, confirmed that the recording is real and acknowledged that she did discuss the issue of Trump saying the N-word with Manigault Newman during the campaign.
"In her secret tape recording of me, it was one of many times that I would placate Omarosa to move he discussion along because I was weary of her obsession over this alleged tape," Pierson said in a statement. "That discussion was nothing other than sifting through unconfirmed rumors regarding the Apprentice tape and the transcript supports my statement."
In a separate statement to the Daily Beast, Pierson said that in the conversation she previously denied having, she "wasn't saying [Trump] actually said it." In the recording released by Manigault Newman, however, Pierson does explicitly say that "he said it."
"There was never a conference call confirming anything," Pierson told the Daily Beast. "It was all speculation, all rumor, all strategy, it was never confirming anything."