'The Magicians' Will Pick Up Where It Left Off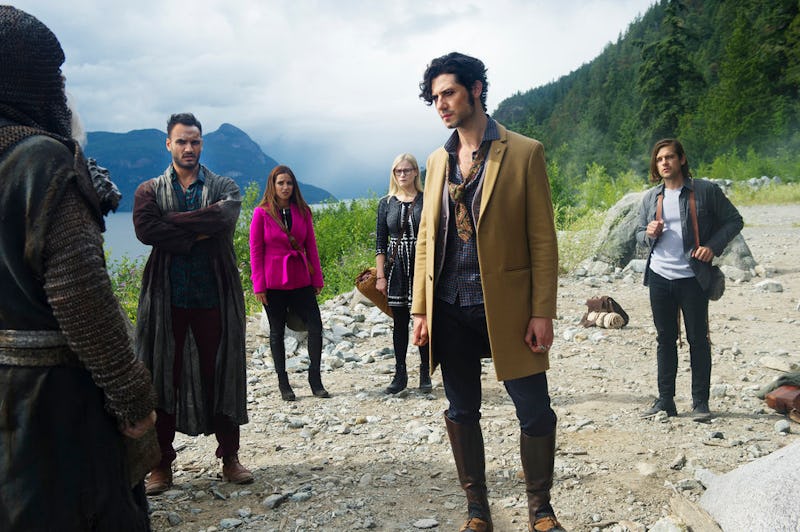 Carole Segal/Syfy
On Wednesday, Jan. 25, Syfy's The Magicians will return for Season 2, picking up moments after the Season 1 finale. While fans of Lev Grossman's book trilogy that the series is based on know where things are heading in the season premiere, there's no way to know exactly what to expect. After all, the series has made some changes to the plot already. And with 13 episodes ahead, there's room to move the story forward, so which books will The Magicians Season 2 adapt? Well, the answer to that is complicated, and includes spoilers for The Magicians books.
Season 1 ended in the throws of the main characters' battle with The Beast, with a cliffhanger that left all of their fates in question. While this was a nail-biter stopping point for a TV show, it is not the end of the first book of the same name. That means Season 2 will pick up with the main storyline still in the first book of the trilogy, but some of the other storylines have already jumped ahead to the second book, The Magician King, or veered from the source material altogether. For example, we have already seen much of Julia's The Magician King story unfold in Season 1. But, when adapting from page to screen, liberties have to be taken. Luckily, fans of the The Magicians book series have been happy with the SyFy adaptation, and that should continue as Season 2 finishes the story of Grossman's The Magicians. It's very likely that from there, more storylines from The Magician King will be introduced.
With the merging of book storylines and an edge-of-your-seat cliffhanger, fans are looking forward to seeing what Season 2 has to offer, even if they have already read what the books called The End. Of course, if you've already inhaled the books and Season 1, you're going to need something to fill your time between Season 2 episodes. Here are eight other shows to watch while you wait for the rest of Grossman's story to unfold on screen.