You Need To Prepare For The Bomb Cyclone's Bitter Cold If You Live In These Cities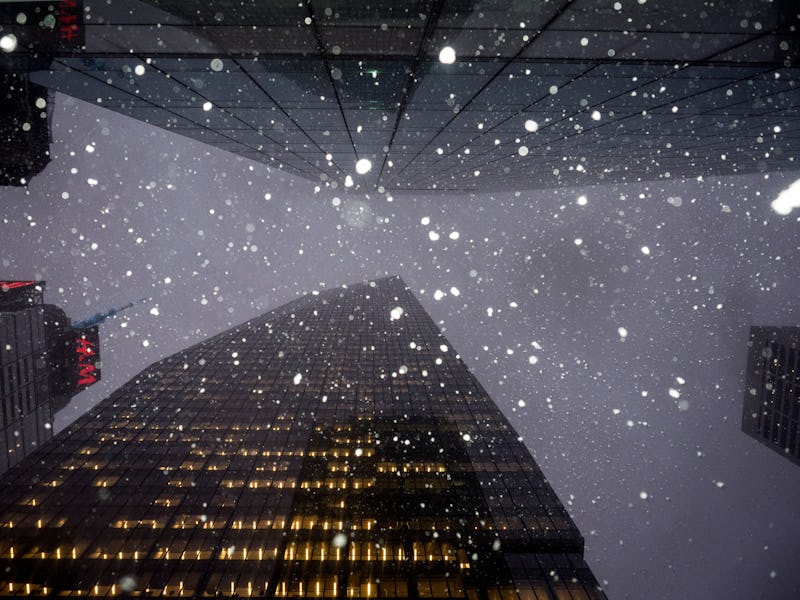 Benjamin Lowy/Getty Images News/Getty Images
Meteorologists are warning that a massive cold snap, called a "bomb cyclone," will bring terrible storms and freezing temperatures to the eastern seaboard of the United States this week. So far, 11 people reportedly have died due to Winter Storm Grayson, which has even brought snow to the state of Florida. It all raises an urgent question for East Coast residents: what cities will the bomb cyclone hit, and therefore, who needs to take precautions?
It's important to note that predicting weather patterns, as well as predicting the impact of extreme conditions like what's reportedly on the horizon with this bomb cyclone, can be a challenging and imprecise business. As such, if you live anywhere along the eastern seaboard ― as far south as Florida and up to New England, according to Newsweek ― you should be preparing for the major storm to hit your area throughout the coming week.
The cyclone is projected to bring winter weather to Florida and the U.S. southeastern coast on Wednesday, then move up the coast through Thursday, becoming more and more like a hurricane as it goes. The cities of Orlando and Jacksonville already have been hit with freezing temperatures and snow. The National Weather Service has put out a freeze warning for the following Florida cities:
Jasper, Jennings, West Lake, Belmont, White Springs, Houston, Live Oak, McAlpin, Newburn, Suwannee Springs, Columbia, Lake City, Oleno State Park, Lulu, Watertown, Macclenny, Olustee, Ratliff, Hilliard, Kings Ferry, Bryceville, Lake Butler, and Trenton.
Moving north, Georgia Gov. Nathan Deal has declared a state of emergency in the following counties, according to The Atlanta Journal Constitution:
Appling, Atkinson, Bacon, Brantley, Bryan, Bulloch, Camden, Candler, Coffee, Charlton, Chatham, Clinch, Echols, Effingham, Evans, Glynn, Jeff Davis, Lanier, Lowndes, Liberty, Long, McIntosh, Pierce, Screven, Tattnall, Toombs, Ware and Wayne.
While the temperature in Atlanta will be cold enough for it to snow, according to the paper, there probably won't be enough moisture in the air for it to materialize. A good rule of thumb for just how concerned and cautious you should be is how close you are to the Atlantic: the coastal city of Savannah, Georgia, for example, is very much in the cyclone's path.
As it moves northwards, the bomb cyclone is projected to pose a threat to Charleston, South Carolina, as well as the eastern coast of North Carolina. Once the bomb cyclone clears the Carolinas, it's expected to gather in strength before heading up towards New York, New Jersey, and New England.
In New Jersey, inches of snow are expected from Cape May County to Monmouth County, the latter being home to the city of Asbury Park, and with Long Beach Island wedged in between. From there, it's expected to continue working its way north through New York City, and then into New England, where the city of Boston could be struck with heavy snow and freezing temperatures.
The bomb cyclone is expected to make it into Massachusetts on Thursday, following a two-day sweep up the eastern seaboard. According to CNN, the state could be looking at anywhere from six inches to a foot of snow from the storm, as well as 40 to 60 mile per hour winds ― below the speeds required for a hurricane, but powerful nonetheless.
In short, it figures to be a massive and destabilizing storm. Judging from the already double-digit death toll, this is one to take seriously. So if you're living anywhere along the affected regions on the eastern seaboard, prioritize your personal safety. That's always the most important thing to remember in the middle of a weather emergency.