The Dems Boycotting The Trump Inauguration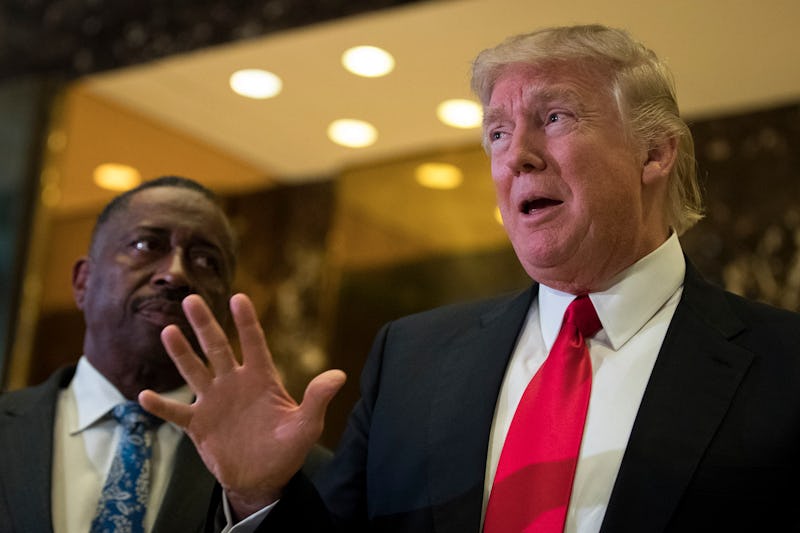 Drew Angerer/Getty Images News/Getty Images
With the Presidential Inauguration of Donald Trump only a week away, preparations are well under way for the 45th President of the United States to be sworn into office. And while the organizers have apparently struggled to find people to perform at next Friday's event, there also seems to be a growing number of important spectators who are choosing not to attend. As of this Friday, at least six Democratic members of Congress will boycott next week's ceremony — and the number could be growing.
Here's a run-down of who's steering clear of Trump's swearing-in.
Rep. John Lewis, D-Ga.
The 14-term Congressman and and Civil Rights leader announced that he wouldn't be attending the inauguration in an interview on Meet The Press. "I don't see this president-elect as a legitimate president," Lewis said of Trump. "I think the Russians participated in helping this man get elected. And they helped destroy the candidacy of Hillary Clinton."
"I don't plan to attend the inauguration," Lewis continued. "It will be the first one that I miss since I've been in Congress. You cannot be at home with something that you feel that is wrong, is not right." Lewis also gave testimony to the Senate against Trump's nominee for Attorney General, Alabama Senator Jeff Sessions.
Rep. Barbara Lee, D-Calif.
The Oakland, Calif., Representative, who refused to vote to certify Donald Trump's electoral victory earlier this month, issued a statement saying she would not attend the inauguration. "On January 20th, I will not be celebrating or honoring an incoming president who rode racism, sexism, xenophobia and bigotry to the White House," her statement read.
What This Leadership Academy In South Africa Can Teach Us About How To Empower Women
Rep. Luis Gutierrez, D-Ill.
Gutierrez, who represents Illinois' 4th Congressional district — one of the stranger-shaped gerrymandered districts — stated in a speech from the floor of the House that he would not be attending. "I went to George Bush's inauguration, and I work with Republicans all the time," Gutierrez said. "But this is different. I never thought George Bush was trying to make my own country hostile toward me, personally. To my wife. To my daughters." Gutierrez said he plans on attending the Women's March on Washington the day after Trump's inauguration.
Rep. Raul Grijalva, D-Ariz.
The Arizona Congressman said "Rather than participate in the inauguration, I will be participating in my district and reaffirming and renewing this democracy and the people that are part of it." Grijalva will reportedly meet with constituents, climate change activists and immigration activists instead.
Rep. Jared Huffman, D-Calif.
The representative of the California 2nd will be sitting out the inauguration, saying "it is abundantly clear to me that with Donald Trump as our President, the United States is entering a dark and very dangerous political chapter."
"I will not sit passively and politely applaud as [this chapter] begins," he added.
Rep. Katherine Clark, D-Mass.
Clark, whose district covers the suburbs of Boston, said that "I support the peaceful transition of power, but I don't feel that I need to attend the pageantry associated with and for this president." In a statement, she said that attending the ceremony would contribute to the "normalization of the President-elect's divisive rhetoric."