Some Patriots Players May Boycott The WH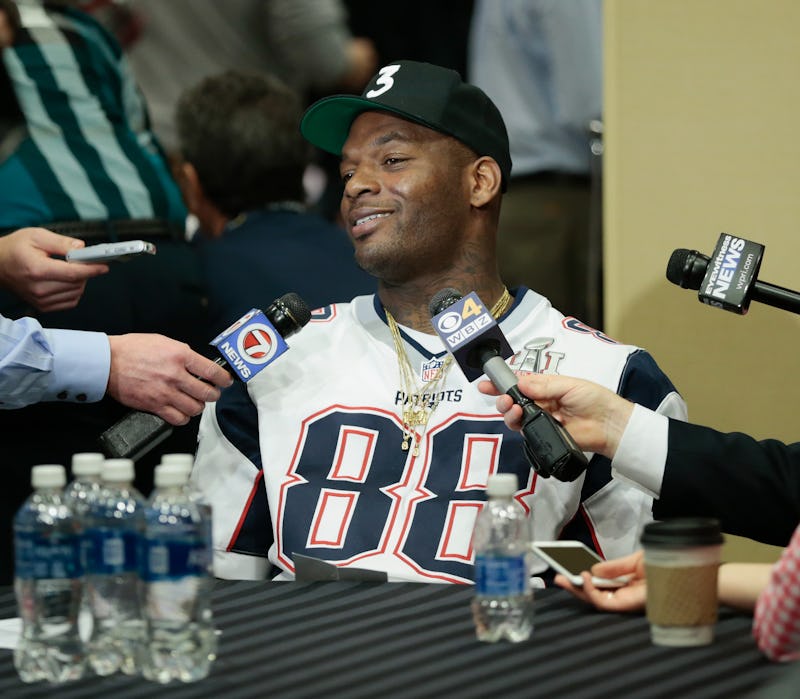 Bob Levey/Getty Images Sport/Getty Images
The New England Patriots have won the Super Bowl for the fifth time. And once they've settled into the offseason, they'll be making their requisite victory trip to the White House to meet with the President, a title that now belongs to Donald Trump. But don't fire up the full team plane just yet. Not every Patriots champ is keen on meeting with the anti-abortion, anti-immigration Commander-in-Chief for a photo op. While some are notoriously pro-Trump, other players are boycotting the Patriots' White House visit.
Tight end Martellus Bennett stated even before Super Bowl LI's kickoff that he was unlikely to go to the White House if the team won. After his victory, Bennett confirmed he wouldn't meet with Trump to celebrate. When asked why, he directed people to his Twitter account where, though free of explicit criticisms of Trump and his administration, he recently tweeted, "America was built on inclusiveness not exclusiveness." That statement, posted to his account only a few days after Trump signed an executive order restricting immigration from seven majority Muslim countries, plus his declining to visit the White House show where Bennet stands on the new administration. But how many of his fellow teammates will join him in icing out Trump?
So far, only Bennett has stepped forward to publicly eschew the Patriots' White House visit. But for a team based in a blue state, he can't be the only New England player who is less than excited about shaking Trump's hand. Even if more Patriots join Bennett, there are at least three that will definitely be in D.C. to meet with the president. Quarterback Tom Brady, head coach Bill Belichick, and team owner Robert Kraft all count Trump as a friend. Brady even keeps a "Make America Great Again" hat in his team locker.
But no matter what, even though sports champs' visiting the White House is tradition, no players on winning sports teams have to meet with the president if they don't want to. This is a fact Brady already knows well. In 2015, he skipped meeting with Barack Obama to celebrate the Patriots' fourth Super Bowl victory. His official excuse was that he had a family commitment to attend to. But on the day in question, Brady was spotted at an NYC Apple store looking at Apple watches. He and Bennett are just two of a few athletes who have skipped their post-championship White House visits.
Bennett's refusal to visit the White House is clearly an act of protest against the Trump administration. And he, along with anyone who decides to join him, will receive just as much hate for the decision as they do support. (Will Trump have anything to tweet about it? Stay tuned.) Either way, if Super Bowl LI did anything this year, it reminded viewers that while sports can be used as an escape from politics, it can never truly exist in an apolitical vacuum. Like corporations and movie stars, sports stars and franchises may have to take sides during Trump's presidency.