Why The Short-Term "Fix" To CHIP Won't Go Far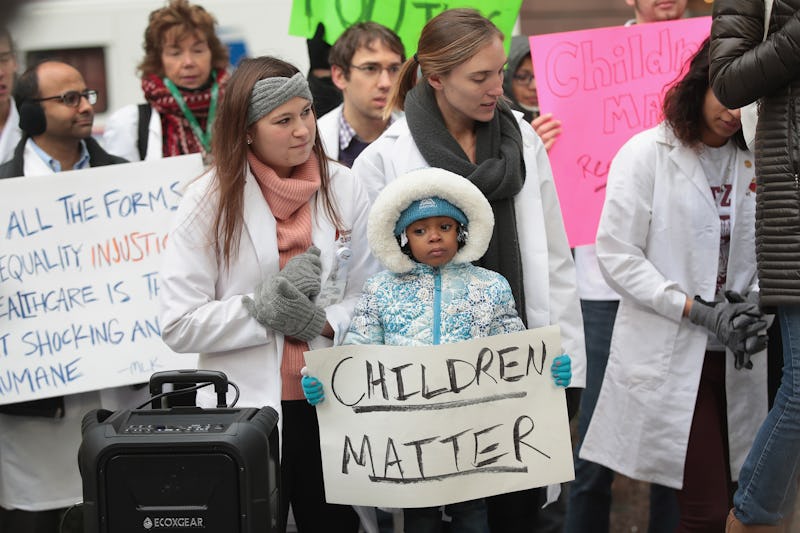 Scott Olson/Getty Images News/Getty Images
Thanks to a stopgap government-funding bill, the Children's Health Insurance Program (CHIP) will now receive funding through March. While this will be a relief for the millions of families who were at risk of losing their children's health coverage at the beginning of 2018, the provision is only a temporary bandaid, and CHIP's longterm financial future is still uncertain.
At a press conference earlier this week, House Minority Leader Rep. Nancy Pelosi criticized the short-term funding strategy: "We should be doing proper pay-fors to provide certainty to provide healthcare to our children," she said.
The stopgap bill, passed Thursday evening in order to avert a government shutdown at midnight on Friday, will allot nearly $3 billion to maintaining CHIP through the first three months of the new calendar year. However, it doesn't guarantee that CHIP will be renewed afterward. (The stopgap bill also only temporarily solves the larger government-funding conundrum - it only provides enough money to run the government until Jan. 19, 2018. After that, Congress will have to pass yet another funding bill, lest they risk a governmental shutdown.)
Historically, CHIP is a crowd pleaser on both sides of the aisle, and funding for the program would be guaranteed under a multi-year authorization. This go-round, CHIP has been politicized as Democrats and Republicans fight over how it should be paid for.
Funding for CHIP initially expired on Sept. 30, when Congress failed to renew the program, which receives money through block-grants. (Block grants are a sum of money given by the federal government to local governments for a specific purpose. Local governments are then left to manage those funds on their own.)
The CHIP funding fix in Thursday's stopgap bill was not the first time that Republicans opted to temporarily pad the health insurance program. When money for it began to run out earlier in the month, Congress passed a "patch" on Dec. 7. That patch took money already allotted to CHIP and divvied it up among the states most rapidly running out of money to fund their respective CHIP programs.
Republicans lawmakers, who enjoy a majority in both the House and the Senate, indicated earlier this week that they did not plan to tackle the longterm CHIP funding issue before Congress left for its winter break. Sens. Susan Collins and Lamar Alexander, who are sponsoring a bill that they say would reduce premium costs for families who do not receive government subsidies for health care, said in a joint statement on Wednesday that they asked Senate Majority Leader Mitch McConnell not to introduce their legislation until the next calendar year.
"Rather than considering a broad year-end funding agreement as we expected, it has become clear that Congress will only be able to pass another short-term extension to prevent a government shutdown and to continue a few essential programs. For this reason, we have asked Senator McConnell not to offer this week our legislation," the senators said.
They continued: "Instead, we will offer it after the first of the year when the Senate will consider the omnibus spending bill, the Children's Health Insurance Program reauthorization, funding for Community Health Centers, and other legislation that was to have been enacted this week."
CHIP has been around since 1997, and in its first fifteen years, the number of uninsured children in the United States dropped by fifty percent. It is primarily for families who make too much money to qualify for Medicaid, but who also don't receive health insurance from their employer and can't afford to pay for it on their own. Nearly 9 million children in the United States receive health insurance through the program.