If You Live In These States, You Should Absolutely Be Preparing For Hurricane Harvey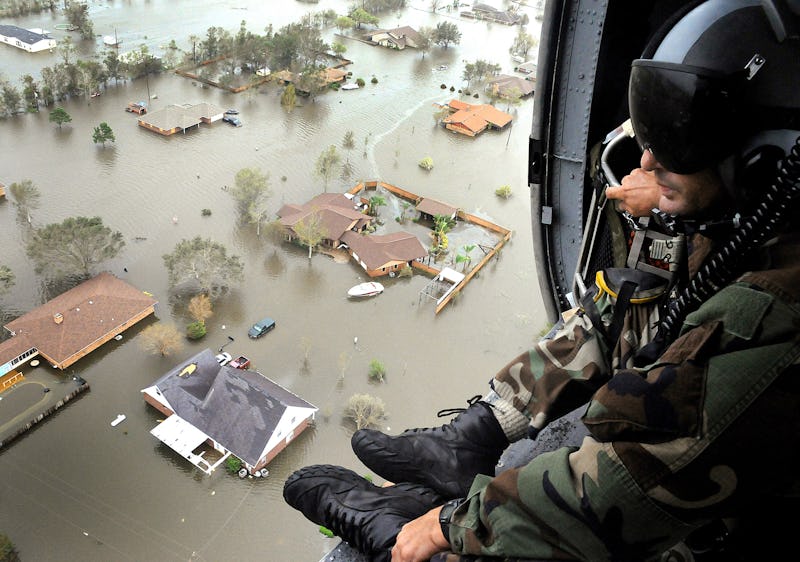 Handout/Getty Images News/Getty Images
As Tropical Storm Harvey moved into the Gulf of Mexico on Thursday its maximum sustained winds increased to 80 miles per hour, causing meteorologists to declare the storm system had strengthening into a full-blown hurricane. So, which states is Hurricane Harvey expected to hit first? Harvey is expected be the first hurricane to hit Texas since 2008.
While Harvey's upgrade to a forecasted "major hurricane" means the storm system will undoubtedly bring wet and windy conditions to cities all along the Texas coastline, the tide could make things even more dangerous, according to CNN. "If peak storm surge arrives during high tide, parts of the [Texas] coast could see 2 to 4 feet of flooding, with the potential of 5 to 7 feet between Port Mansfield and San Luis Pass," the cable news outlet reported.
The last time a storm this massive hit Texas was in 2008, when Hurricane Ike ripped through the state — along with areas of neighboring Louisiana and Arkansas — causing widespread damage and resulting in the deaths of 21 people.
This time, however, the National Hurricane Center projects Harvey will slow considerably as it approaches the Texas coastline before stalling a few miles inland. Although Harvey is (for now, at least) not expected to make landfall in Louisiana, the state is bracing for heavy rainfall as the storm tracks through neighboring Texas. According to the Advocate, meteorologists claim the areas around Baton Rouge and New Orleans could see anywhere between 4 and 6 inches of rain over the weekend.
The National Hurricane Center upgraded the tropical storm to a Category 1 hurricane on Thursday but noted Harvey is projected to continue growing and gathering strength as it continues to move northwest. "Harvey has intensified quickly this morning, and is now forecast to be a major hurricane at landfall, bringing life-threatening storm surge, rainfall, and wind hazards to portions of the Texas coast," the National Hurricane Center said in an update issued Thursday.
According to the National Hurricane Center, a "major hurricane" is defined by a Category 3, 4, or 5 storm system on the Saffir-Simpson scale with maximum sustained 1-minute surface winds of at least 111 miles per hour.
Although Hurricane Harvey is not expected to make landfall until late Friday or early Saturday, the National Hurricane Center has warned residents in the region to complete any and all preparations by Thursday night as tropical storm-force winds are expected to hit cities within the hurricane and storm surge warning areas on Friday.