These Two Former Roommates Are Playing Each Other At The Super Bowl RN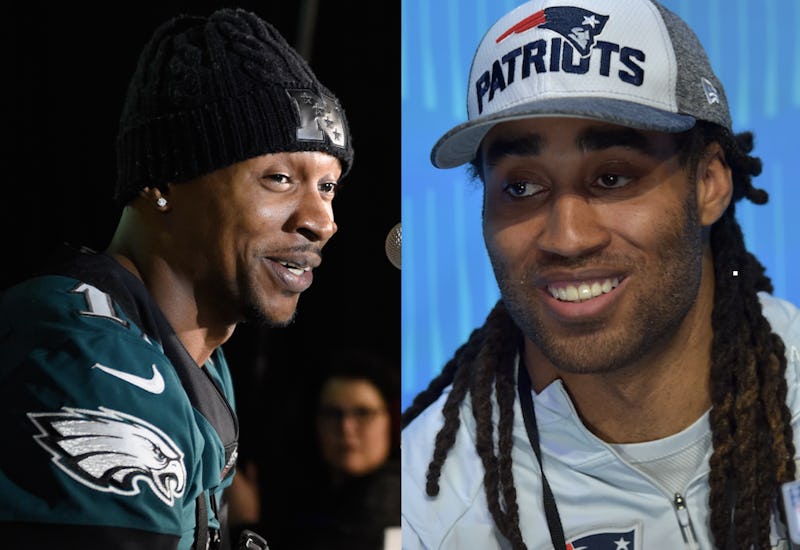 Hannah Foslien/Getty Images Sport/Getty Images
As the Philadelphia Eagles and New England Patriots face-off in the Sunday Super Bowl, two friends will become professional opponents. According to The Philadelphia Inquirer, Alshon Jeffery and Stephon Gilmore, once roommates, are competing with each other at the highly-anticipated and intense Super Bowl event.
Jeffery and Gilmore were once so close to each other that Jeffery was a groomsman for Gilmore's wedding that took place in 2014. Gilmore shared a wedding photo with The Charlotte Observer where you can see both players in the frame, all decked out for Gilmore's wedding.
That said, in spite of their friendship, the two professional football players haven't been speaking with each other recently. The silence seems to be because of the intense football mania. According to the Charlotte Observer's Joseph Person, Jeffery said of Gilmore,
I haven't talked to him this week. I'm pretty sure he feels the same way. It's nothing on purpose. I mean, I play for the Eagles. Ain't no friends, none of that. It is what it is.
Gilmore said that communication between both took the backseat as the Super Bowl approached and both players turned their attention to winning for their respective teams. "This is a once-in-a-lifetime opportunity," he said. "You don't get these [very] often. So you've really got to focus on what you've got to do to help your team win."
In 2017, the Philadelphia Eagles signed Jeffery onto its team but before that, he had spent five years playing for the Chicago Bears. While writing for the Philadelphia Eagles, Chris McPherson said that the most intimidating characteristic of Jeffery is that "he can win in the red zone and provide explosive plays." On the other hand, Gilmore was initially drafted by the Buffalo Bills in 2012. He later on became the cornerback for the New England Patriots under a five-year contract worth $65 million in 2017.
Now with the Super Bowl, Jeffery and Gilmore are facing each other for the very first time since they used to play against each other in South Carolina. Prior to competing against each other, Jeffery made a passionate promise in 2017. The football player, who was then playing for the Chicago Bears, said, "I guarantee you we are going to win the Super Bowl next year."
That promise seems to be kept by Jeffery, at least when it came to his own performance. During the Sunday Super Bowl, Jeffery delivered a formidable touchdown catch which the NFL Twitter account also proudly dubbed "unbelievable."
Both players have known each other since their good ol' days at the University of South Carolina. According to Gilmore, the old days were enjoyable and full of humor. "It was fun. A lot of jokes. It was the first time we had lived away from home. We were 18. A lot of stories. A lot of fun," he said according to NBC Sports' Pro Football Talk.
With the Super Bowl going on, Gilmore and Jeffery have a chance to face each other again — but in much more physically demanding and intense circumstances, especially as both will be surrounded by diehard and fervent Philadelphia Eagles and New England Patriots fans.
Both Patriots and Eagles athletes, according to The Philadelphia Inquirer, are highly aware of each other's skills and strengths that come out during rough football matches. According to the publication, Gilmore said that he is aware that Jeffery had a "big catch radius" that can be imposing and daunting. Jeffery, on the other hand, said that he appreciates and admires Gilmore's agility and reach. For both football athletes, the Sunday Super Bowl is the biggest and most challenging match they have played so far in their six-year-long careers.