White House Lawyers Are Looking Into Impeachment Procedures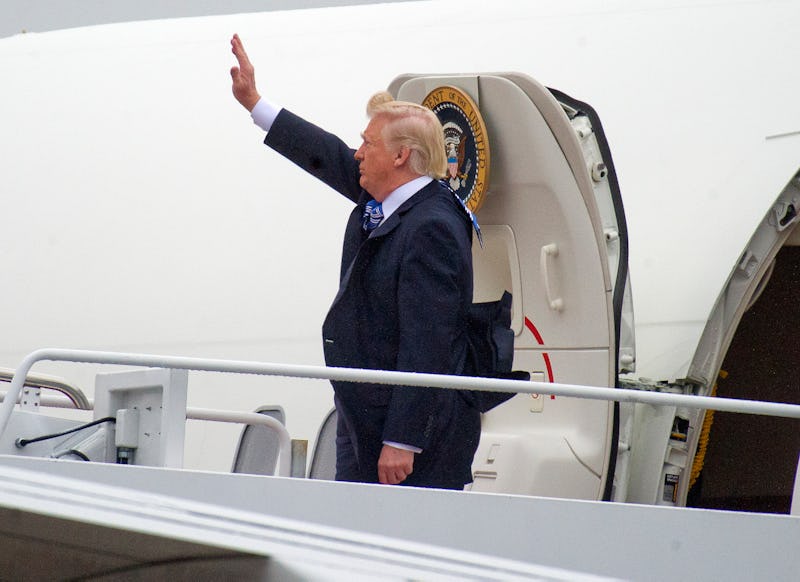 Pool/Getty Images News/Getty Images
CNN reported on Friday that White House lawyers have begun researching impeachment procedures. Although officials in the White House still believe it's unlikely that President Trump will be impeached, lawyers have nonetheless been boning up on the legalities of impeachment, consulting with experts over the previous week in an attempt to get an idea of how such a scenario might play out.
It is not clear precisely what inspired White House lawyers to begin reviewing how impeachment works, but in the week and a half leading up to the CNN report, Trump has been engulfed in several major controversies. The first came when he fired FBI Director James Comey, who was overseeing an investigation into possible ties between Trump and the Russian government. Trump later cited the "Russia thing" in justifying his dismissal of Comey.
Soon thereafter, The New York Times reported that Trump had asked Comey to end an investigation into Michael Flynn, Trump's former National Security Advisor, prior to his firing. Trump has denied this charge; some Democrats have said that, if it's true, it could amount to obstruction of justice. According to one of his friends, Comey had grown uncomfortable with what he perceived as Trump's attempts to compromise him, given the degree of autonomy from the White House that the FBI traditionally enjoys.
In addition to all of this, the Times also reported that the Trump team knew Flynn was under investigation by the FBI for possibly being an agent of the Turkish government when he hired him to be National Security Advisor. Flynn later registered as a foreign agent of Turkey, and according to The Miami Herald, he enacted a pro-Turkish policy during his short time as National Security Advisor.
There's also the issue of Trump's private business dealings, which some legal experts say puts him in violation of the Constitution's Emoluments Clause. Although some scholars have said that this is an impeachable offense, it's not an issue that's received much attention as of late, and would seem to be an unlikely source of the White House's decision to take the possibility of impeachment more seriously.
So far, two House Democrats — Reps. Maxine Waters and Al Green — have called for Trump's impeachment. In addition, several more lawmakers from both parties have raised the possibility of impeaching the president, but fallen short of explicitly voicing support for it. Although some reporting suggested that Democratic leadership wanted to tamp down impeachment talk, House Minority Leader Nancy Pelosi said Friday that although she isn't explicitly encouraging her Democratic colleagues to discuss impeachment, "members are going to do what they're going to do."