White House Meals Under Trump Vs. Obama Show Two Dramatically Different Tastes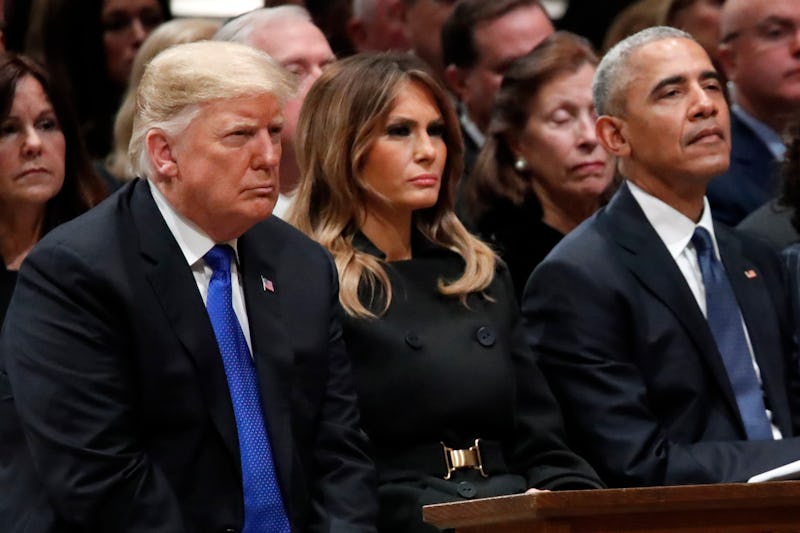 Pool/Getty Images News/Getty Images
From the differences in their general tone and demeanor, to their preferred political policies, Donald Trump and Barack Obama are two dramatically different presidents. In many senses, these differences are totally apparent to the naked eye. But other breakdowns, like the White House meals for Trump vs. Obama, offer a more subtle analysis into how unalike the two men really are.
According a December 2018 report by The New York Times, the White House has undergone significant change in the culinary sphere under Trump's tenure — and in more ways than one. To begin with, there are just the reported eating preferences of the president, himself: while Obama used to enjoy eating out, Trump apparently rarely dines in public D.C. establishments.
Instead, Trump prefers to eat in at the White House, The New York Times further notes, and his meal preferences couldn't be further from Obama's. While the White House kitchen cooked up Brussels sprouts and shakshuka (an egg-based Moroccan dish) under Obama's eye, according to the outlet, it now churns out meatloaf and ice cream for the current president.
Trump's tastebuds have drawn attention again and again since he was elected president. He notably ate an over-cooked steak with ketchup for his first meal as president, according to The Washington Post, and has been open about his penchant for fast food in the past.
In fact, one November 2017 Politico report detailed Trump's love of a quarter-pounder with cheese from McDonald's — specifically, with no pickles and extra ketchup. He loved the meal so much, the publication reported, that he occasionally sent an aide to go get it, because the White House kitchen couldn't make it quite like he wanted it. While Obama has a documented love of cheeseburgers and the occasional fast food meal, he has maintained in interviews that his favorite food is broccoli.
It's not entirely clear whether Trump's tastes have changed at all since taking office. A March 2018 Bloomberg report claimed that POTUS did radically alter his diet after his presidential physical in January 2018. One thing is clear, though: Trump still holds a special place in his heart for fast food, since he requested a dinner banquet full of it when the White House welcomed the Clemson football team in January 2019, to celebrate their NCAA championship win.
Specifically, per The New Yorker, the banquet smorgasbord included meals from McDonald's, Wendy's, Burger King, and more. Photos of the young athletes piling their plates with fast food at the White House quickly went viral. Trump would later tweet that he paid for the dinner himself, because of the government shutdown at the time.
The comparison between Trump and Obama's dietary preferences isn't just about what they personally choose to eat and offer guests at the White House, though. It also has to do with how the administrations use food to unify communities and bridge the divide with other cultures. The New York Times reports that while Obama's White House often featured local chefs, the Trump administration no longer prioritizes that effort.
Victor Albisu, a local chef who owns the Poca Madre and Taco Bamba restaurants and who used to cook at the White House for both Obama and George W. Bush, said to The New York Times in 2018, "I have not cooked for anybody in the [Trump] administration. It's a polarizing time for people, and a table full of food and drinks is the place to put aside those differences. I think this has been a net loss for everyone."
The new culinary style under Trump has even begun to spread out to school lunch programs across the country. According to The Washington Post, the U.S. Agriculture Department announced its intentions to roll out school lunch menus packed with more salt and less whole grain in December 2018.
Secretary Sonny Perdue said of the proposed change to The Washington Post, "If kids are not eating what is being served, they are not benefiting, and food is being wasted."
Then, in January 2020, the U.S. Agriculture Department proposed another round of rules, which would allow schools to cut the required amount of veggies and fruits for lunches and breakfasts, and to simultaneously expand their right to sell pizza, burgers, and fries to students instead. Per The Washington Post, these new proposals would also allow other changes, including allowing schools to offer a potato as the required vegetable every single day. These proposed rule changes were submitted to the Federal Register on Jan. 23, and will be open for comment to the public for 60 days.
Regardless of the person currently occupying the top role in the White House, presidential chefs have said in the past that the job is usually quite varied. Bill Yosses, a restaurant owner and former pastry chef at the White House from 2006-2014, said to The Huffington Post, "It's like being a hotel chef, a private chef and a restaurant chef all in one."
He explained, "You're cooking breakfast, lunch and dinner for a private family. You could be doing a fine dining tasting menu with 5-6 courses, or you might have so many people coming through it's like being a banquet chef in a hotel."
Though Yosses did not cook for Trump, he did share a little bit of insider info on what the Obamas loved to eat to satisfy sweet tooth cravings during their time in the White House. "The Obamas loved pie of every kind," he told The Huffington Post. "Fruit pie in the summer, banana cream pie, Boston cream pie, that's what they loved."
This article was originally published on