The White House Just Issued Strict New Press Briefings Rules For Reporters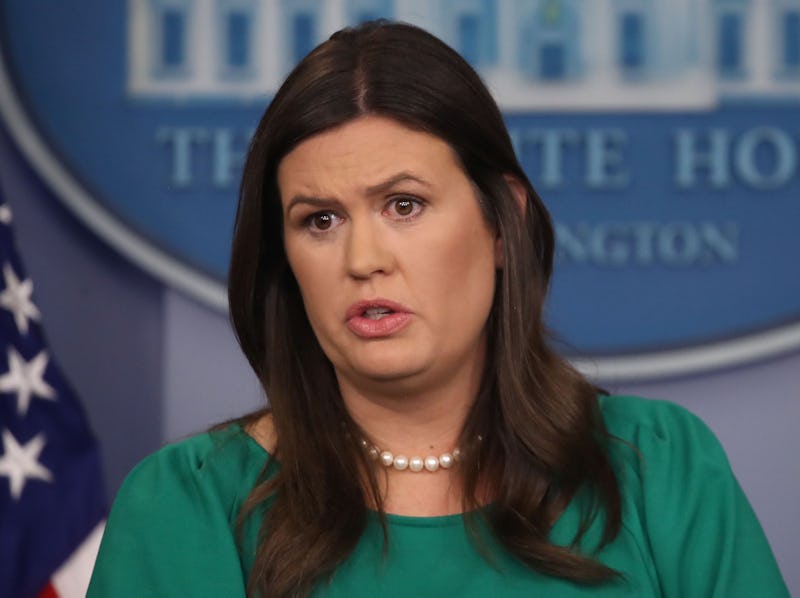 Mark Wilson/Getty Images News/Getty Images
On Monday, the administration announced that it restored CNN reporter Jim Acosta's hard pass after a brief legal battle. At the same time, the White House released its new press briefing rules, and in an official statement from White House Press Secretary Sarah Huckabee Sanders, she noted: "We have also notified [Acosta] of certain rules that will govern White House press conferences going forward."
Bustle has reached out to the White House for comment. According to Sanders, White House reporters now are required to abide by four specific rules. Firstly, per the press secretary's statement, "a journalist called upon to ask a question will ask a single question and then will yield to the floor to other journalists."
Secondly, "at the discretion of the President or other White House official taking questions, a follow-up question or questions may be permitted; and where a follow-up has been allowed and asked, the questioner will then yield to the floor."
To leave no doubt about the term "yielding to the floor," Sanders noted in the third rule that it could include "physically surrender the microphone to White House staff for use by the next questioner."
The fourth and final rule warns that if a reporter does not follow the new rules, his or her hard pass could be suspended or revoked. This development, which has elicited reactions from some journalists, comes after the White House backed down from a lawsuit filed by CNN on Nov. 13. It all began the week before when Acosta's press pass was suspended indefinitely after he clashed with President Trump during a press conference.
In her official statement, Sanders also said that the rules were being announced "with a degree of regret." The press secretary said, "For years, members of the White House press corps have attended countless press events with the President and other officials without engaging in the behavior of Mr. Acosta displayed at the Nov. 7, 2018, press conference."
Shortly after Acosta was barred from the White House, Sanders tweeted a video of Acosta's interaction with a female White House staffer to justify his press pass being revoked. Many, however, noted that the video Sanders shared was doctored to make it appear as though Acosta was being physically aggressive with the staffer.
In the past, there have been standard rules for White House reporters as well as journalists covering the Senate. But they don't place such a pronounced emphasis on "yielding to the floor" or suspension and revoking access. For instance, if a reporter wants to cover the administration, he or she would simply need to be approved by the Standing Committee of Correspondents.
Another example is that media members would have to, based on congressional rules, prove that they work for an outlet where the "principal business is the daily dissemination of original news and opinion of interest to a broad segment of the public." Reporters would have to demonstrate that their publication or network is "editorially independent of any institution, foundation or interest group that lobbies the federal government." It's pretty common stuff.
As mentioned before, some journalists have chosen to criticize these new rules. For Acosta, he didn't immediately address the new rules. After his access was reinstated Monday, the CNN correspondent tweeted that it was time to "get back to work."