The White House Will Investigate Ivanka Trump & Jared Kushner's Use Of Private Email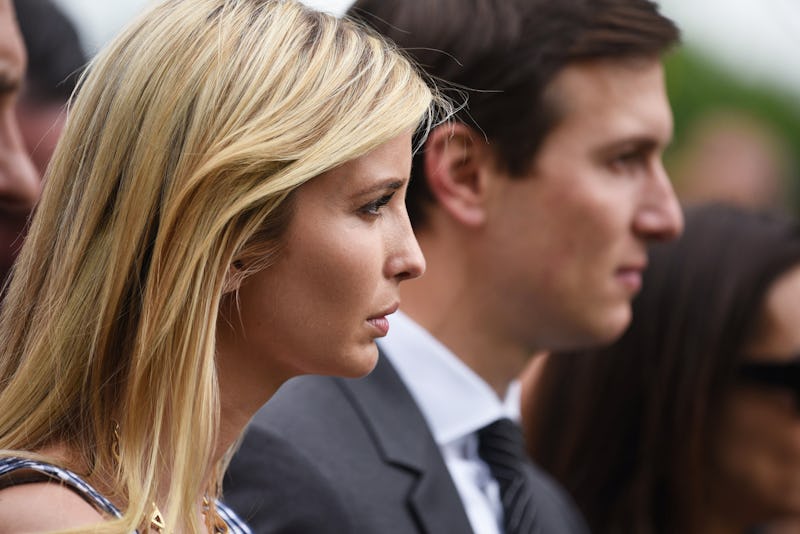 MANDEL NGAN/AFP/Getty Images
After news broke that several White House officials allegedly used private email accounts to discuss government business, Politico reported that an internal White House investigation into private email use has been launched. The news is particularly remarkable after the 2016 election cycle was plagued with ceaseless choruses referring to then-candidate Hillary Clinton's own private email server use. That the Trump White House would be found utilizing the same communication techniques that some say helped launch his presidency is infuriating for some officials, according to Politico.
The investigators are apparently most interested in the private email accounts used by Ivanka Trump and her husband, Jared Kushner, since both of them still currently work in the White House.
"Mr. Kushner uses his White House email address to conduct White House business," Kushner's lawyer, Abbe Lowell, acknowledged in a statement obtained by Politico, while acknowledging there was some communication over a personal account. "These usually forwarded news articles or political commentary and most often occurred when someone initiated the exchange by sending an email to his personal rather than his White House address."
According to Politico's report, written by Josh Dawsey, White House lawyers are sifting through the emails to ascertain whether they are relevant to the ongoing Russian investigations. The probe could take weeks or months to complete.
Former Chief of Staff Reince Priebus, former Chief Strategist Steve Bannon, National Economic Council Director Gary Cohn, and spokesman Josh Raffel are allegedly among those who emailed Kushner on his private account.
One of the most stunning aspects of the whole ordeal is that, after months of campaigning on Clinton's private email server, Kushner and Ivanka reportedly used their private accounts after the election.
According to CNN, Kushner also failed to disclose the existence of his private email account during his interview with the Senate intelligence committee regarding Russia's interference into the 2016 election. Committee members reportedly learned about the scandal from news reports on the subject, and according to CNN, they were not happy.
They sent Kushner a letter regarding the issue and they did not mince words:
The Committee was concerned to learn of this additional email account from the news media, rather than from you, in your closed staff interview. Please confirm that the document production that you made to the Committee... included the additional "personal email account" described to the news media, as well as all other email accounts, messaging apps, or similar communications channels that you may have used...
In an op-ed for The Washington Post, Norman Eisen and Anne Weismann said that the private email revelations "represent the latest episode in a critical systems failure in the Trump presidency — one that strikes at the heart of our democracy."
The two go on to argue that the "flagrant disregard" of the Presidential Records Act, which provides public ownership of presidential and vice presidential records, is problematic for a series of reasons. Beyond historical record keeping or providing a complete list of documents to archivists and lawyers, Eisen and Weismann appeal to the importance of transparency. Essentially, they point out that the Freedom of Information Act cannot be entirely enforced if records are being deleted (as is the case, frequently, with Trump's tweets) or if they are not being disclosed at all (because they exist in a private email account).
There is a process that must be followed before a president can delete his or her records. These records, Eisen and Weismann wrote, must prove to be of little value. Afterward, official United States archivists must weigh on on the matter, and then Congress must be notified 60 days in advance.
Kushner and Ivanka's private emails fly in the face of such stringent procedures, and whether they were personally aware of the rules isn't really an excuse. As Eisen and Weismann said, ignorance might have played a role at first, "but the emerging pattern makes clear these are the actions of public officials who fail to respect and observe the rule of law."