There's Footage Of A White Supremacist Firing At Charlottesville Counter-Protestors As The Police Did Nothing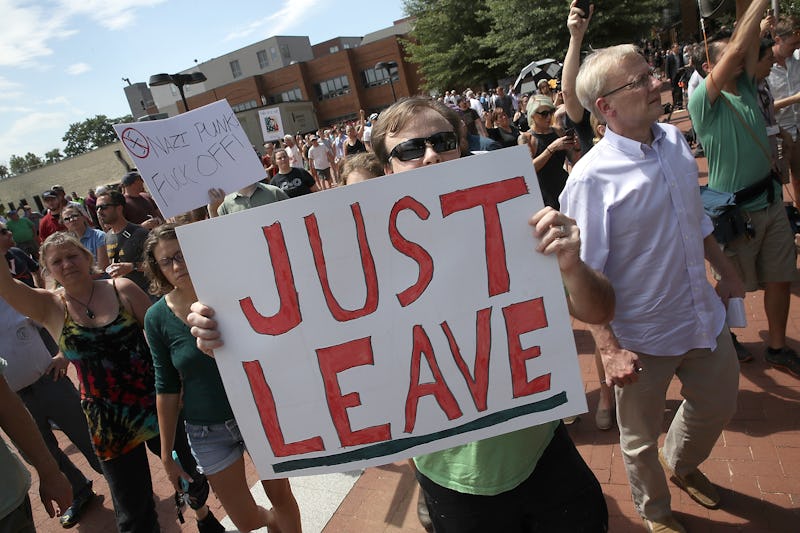 Win McNamee/Getty Images News/Getty Images
According to a new report from The New York Times that included a video of the incident, a white supremacist protester opened fire on Charlottesville counter-protesters earlier this month, and police on the scene made no move to stop him.
The fact that violence broke out at the white supremacist and neo-Nazi protest is not new news in itself. A vehicular attack left one counter-proteste, Heather Heyer dead, and some 20 more injured. Another anti-racist demonstrator, Deandre Harris, was viciously beaten in a parking lot by white supremacists carrying metal poles.
But the ACLU video released by the Times on Saturday is the first footage of actual gunfire at the event. People who witnessed it said that nearby law enforcement clearly heard the shot, but did nothing to intervene or apprehend the man.
The video shows a gray-haired white man, handgun drawn, aim in the direction of a black man carrying an improvised blowtorch. The gunman can seemingly be heard yelling a racial slur before raising his pistol and firing one shot in the direction of the man. Then, without missing a beat, he calmly turns and walks away while sliding the gun back into a holster on his thigh, passing a line of officers in the process.
The Times report quotes a Charlottesville activist named Rosia Parker, who said none of the police reacted when the gunman strolled right past them.
"We all heard it and ran ― I know damn well the heard it," Parker reportedly said. "They never moved."
This is not the first time the police response to the Charlottesville white supremacist demonstrations has come under scrutiny. Ever since the deadly events of Saturday, August 12, anti-racist demonstrators have claimed that law enforcement on the scene were far too reluctant to offer protection, taking a passive attitude for much of the day's chaotic events.
The chief of Charlottesville police, Al Thomas, insisted in the days following the violent protests that his officers had intervened on multiple occasions to break up fights and skirmishes.
Throughout the entire weekend, Virginia state police, Charlottesville Police Department intervened to break up fights and altercations among those in attendance at the rally site. This began on Friday night and continued through Sunday.
Thomas also explicitly denied ordering his officers to not help people who were being attacked. Whatever the truth of the matter, however, Saturday's video release paints a harrowing picture, of a white supremacist demonstrator who was apparently allowed to fire a bullet in the direction of a black counter-protester ― in a scene teeming with bystanders and witnesses and police officers, no less ― and simply walk away.
For the record, the suspected gunman was reportedly in custody on Saturday morning. A spokesperson for the Virginia state troopers reportedly told the Times that their officers did not hear the gunshot.