The FBI Identified "Black Identity Extremists" As A New Domestic Terror Threat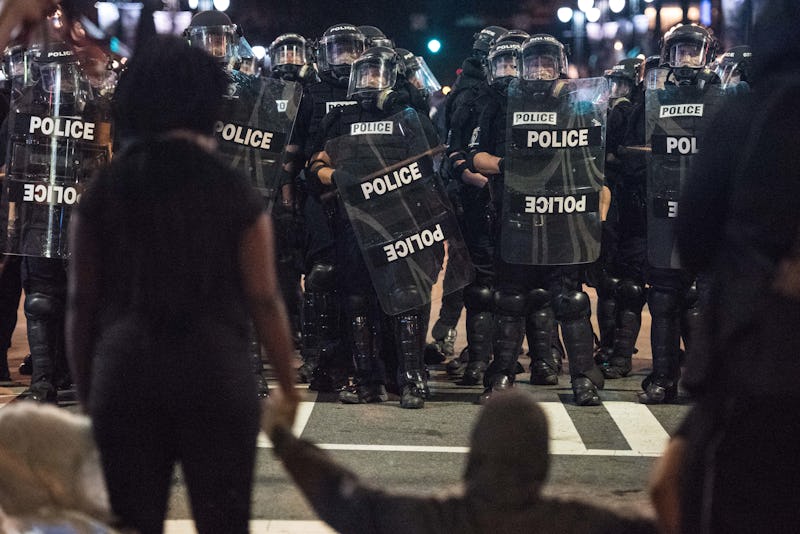 Sean Rayford/Getty Images News/Getty Images
The FBI's counterterrorism division has reportedly identified a new domestic terror threat. According to Foreign Policy, the FBI released a report warning of "black identity extremists" and the threat of increasing "premeditated, retaliatory lethal violence against law enforcement."
The report, which is marked for official use only and was obtained by FP, is titled "Black Identity Extremists Likely Motivated to Target Law Enforcement Officers." It claims:
Black Identity Extremist (BIE) perceptions of police brutality against African Americans spurred an increase in premeditated, retaliatory lethal violence against law enforcement and will very likely serve as justification for such violence.
According to the report, the FBI based its assessment on a history of "violent incidents attributed to individuals who acted on behalf of their ideological beliefs documents in FBI investigations and other law enforcement and open sourcing reporting." It further states that "it is very likely that BIEs' perceptions of unjust treatment of African Americans and the perceived unchallenged illegitimate actions of law enforcement will inspire premeditated attacks against law enforcement over the next year."
The FBI's decision to label "black identity extremists" as a threat has been met with widespread backlash. "They are grouping together Black Panthers, black nationalists, and Washitaw Nation," a former homeland security official, who was not named, told FP. "Imagine lumping together white nationals, white supremacists, militias, neo-Nazis, and calling it 'white identity extremists.'"
Malcolm Nance, a counterterrorism expert who served in the U.S. Navy tweeted that that the term is new and fabricated by the FBI. "I train law enforcement intelligence in counterterrorism all over nation & "Black Identity Extremism" doesn't exist," he wrote. "It's a made up term."
And in an interview with FP, Black Lives Matter activist DeRay McKesson pointed to the FBI's long history of surveilling black activists. He highlighted his own personal experience with the FBI visiting his home and told FP, "This is not surprising."
"When we talk about enemies of the state and terrorists, with that comes an automatic stripping of those people's rights to speak and protest," Mohammad Tajsar, staff attorney with the American Civil Liberties Union told The Guardian. "It marginalizes what are legitimate voices within the political debate that are calling for racial and economic justice."
The FBI defended the "black identity extremist" label in its report, saying that it needs classifications like this to monitor domestic terrorist groups, because it groups them by purpose. "Domestic terrorism groups differ from traditional criminal groups in that they take action for a different purpose, to bring attention to a social or political cause," the FBI told FP.
Editor's Note: This story was updated on Oct. 23 to meet Bustle's editorial standards.