'Bachelorette' Star Bryan Is Such A Fan Of His Parents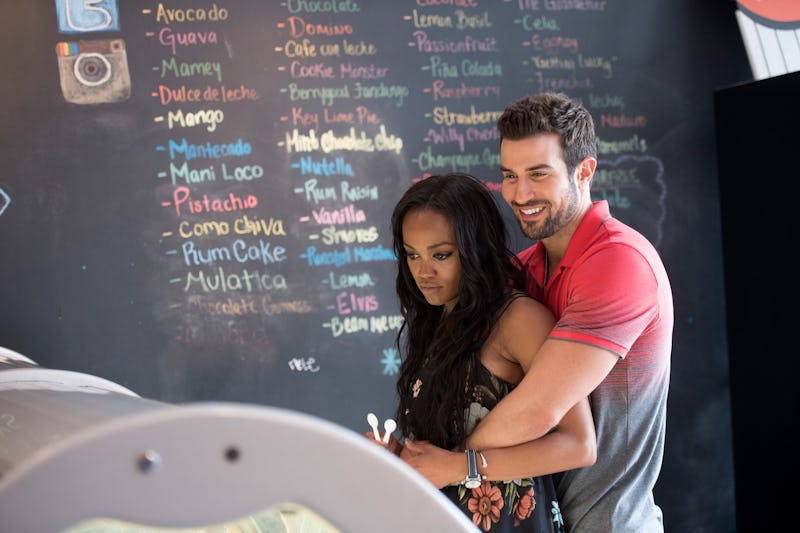 ABC/Rodrigo Varela
And then there were four. The time has finally come for hometown dates on The Bachelorette, and fans are stoked to meet the families of the final four men. I think I'm most excited to meet Dean's family after he told Rachel about his dad on last week's episode, but I'm also ready to find out who Bachelorette contestant Bryan's parents are. We don't know too much about them yet, except that weird, vague story he told about him and his ex ending things because she didn't get along with his mom. Not to mention, in a new preview, Bryan's mom threatens Rachel, saying "If he's happy, I'm happy. If not, I'll kill you." Clearly, this woman has a lot of say in her son's life. The pressure is on for Rachel this week.
It was very hard to find anything on Bryan's family outside of the million and one photos he posts on Instagram of them. They don't appear to have Instagram accounts of their own (or at least Bryan never tags them), but he is certainly proud to be their son. We also know from his Bachelorette contestant bio that his mom primarily talks to him in Spanish, which means that this family interaction could be a little uncomfortable for Rachel if she doesn't also speak the language. But, until fans get to see it all play out, lets look at all the times Bryan posted photos with his parents on social media.
On His Pops Birthday
"My 2 Rocks!!" he captioned this photo of him and his parents at a surprise 70th birthday for his dad.
A Graduation Throwback
An appropriate family throwback.
Christmas Time
A holiday photo with mom and Bryan's cousin.
Another Throwback
This time he refers to his mom as his "woman crush everyday."
Easter With Mom
His niece and nephew look adorable in this photo.
Mother's Day
"To the world you may be one person...but to me you are THE WORLD!" he captioned the photo.
Mom Dancing
Hey Bryan, her drink is empty. May want to be a good son and fill that bad boy up! After all, this was her birthday.
Halloween With Mom
A nun and a dude in a green hat.
Spending Quality Time With Mom
Car selfie!
Father's Day Lunch
Mom was celebrating too.
Mom And Dad Are His Heroes
"Some people don't believe in heroes, but they haven't met my mom and dad," he captioned this snap.
Grandma's Birthday
Gang's all here.
Bryan Never Misses A Family Outing
He and his mom made sure to be there for his cousin's son's birthday.
He's Mom's Favorite
"Fam Jam at my sister's house! #familyfirst#blessedandhighlyfavored," he captioned this Instacollage.
If you couldn't tell, Bryan's family comes before everything else. Fingers crossed that Rachel passes the test.