HGTV Has A Brand New House Flipping Show & You'll Flip For The Hosts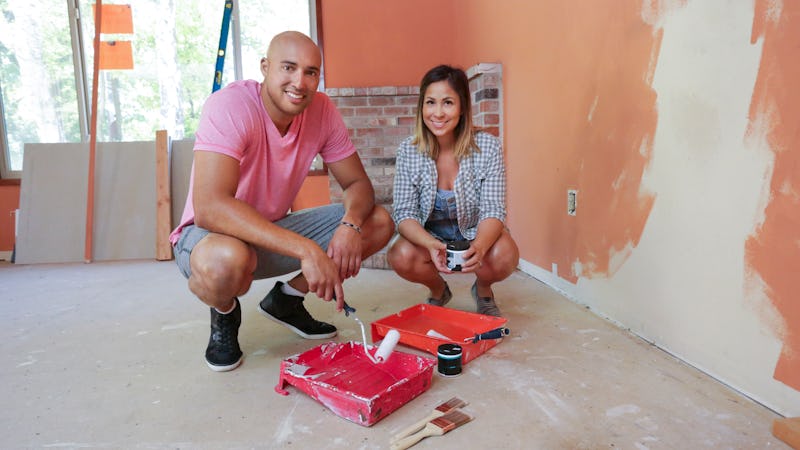 HGTV
Rustic Rehab is the latest in HGTV's long line of house-flipping shows, which includes Masters of Flip, Flip or Flop, and Flip It To Win It. But, this one distinguishes itself in ways other than omitting the word flip from its title. Rustic Rehab follows couple Chenoa and David Rivera as they flip houses in Paradise, California — a town to which they share a personal connection to. The two are longtime residents of Paradise and refer to it as their hometown, and they have a personal investment in seeing the town they grew up in succeed.
As Chenoa tells HGTV in a press release, "The results have to be right—these buyers are our neighbors." David adds, "People recognize us at the store or at the park with the kids."
Paradise itself is a incorporated town within Chico, California, where the Riveras have a lot of shared history. The Paradise Post reports that the couple behind the series met while attending Chico State, and moved into a house in Paradise where they are raising three children. Their flipping work was simply a part of their life until they responded to an open call from HGTV, which resulted in them getting their own television show. "We got into real estate about four years ago and it just started to grow and grow," Chenoa told the Paradise Post.
What differentiates Rustic Rehab from other HGTV shows is not just the show's location, but the kind of house-buying people do in Paradise. David explained to the Los Angeles Times that "many [Paradise] homeowners have main homes in the Bay Area, and it's a source for lots of vacation rentals. Also, people in Napa and Sacramento have second homes here."
So, the houses of Rustic Rehab are designed specifically with vacationers in mind, creating homes that look more like deluxe cabins than a typical home. "There's lots of wood in the properties — vaulted ceilings with exposed wood beams and knotty pine," David said.
While the look of a rustic wooden vacation home has provided many a Pinterest inspo, the Riveras are aware there are some unique challenges to flipping these houses into enjoyable living spaces. Chenoa explained to Los Angeles Times, "Some places lack central heat and air, so a wood-burning stove is the main source of heat. We repurpose vintage ones or go for a new, sleek and modern look." David added that "there's a lot of rot, and our area is known for termites and carpenter ants. Most decks cost a minimum of $2,000 to replace."
Most challenging of all, Paradise does not have a sewer system, meaning the Riveras also have to worry about septic tanks. David explained, "Every house has a septic tank. We get septic tanks from the 1940s, '50s, '60s. The concrete cracks, or there's root intrusion. If the house is on a low water table, it may need an engineered septic system. That's about $40,000 to $55,000 to replace one of those."
Flipping a house in Paradise, California is not cheap, but one can't put a price on getting to live comfortably amongst nature. When prompted to describe Paradise to the Los Angeles Times, Chenoa shared that she refers to the town as "our mini Lake Tahoe. We have four seasons, huge pine trees and a canyon on either side. It's close to Lake Oroville, and there's also Paradise Lake."
The flipping may not be easy, but the Riveras are great at showing that all the work is worth it in the end for the location alone. And, along the way, viewers will get to know Chenoa and David Rivera and their love for the charm of Paradise, California.