One Of Ed Sheeran's New Songs Is About Family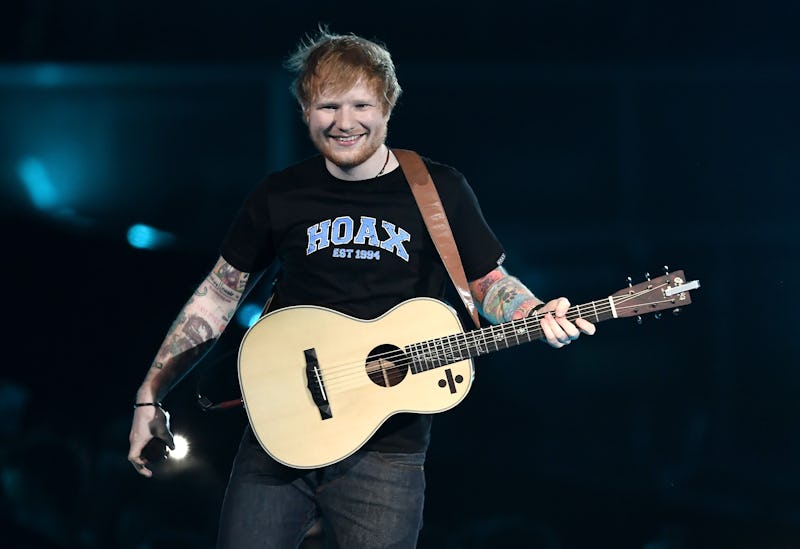 Gareth Cattermole/Getty Images Entertainment/Getty Images
Searching for an artistic muse can be a daunting task. There are only so many times you can sing about wooing the person of your dreams, being crushed by a crush, or "Thinking Out Loud" about how great a relationship would be. For his new song "Nancy Mulligan," Ed Sheeran turned to his grandparents' love story for inspiration. The Irish folk tune on Sheeran's new album, Divide, recounts how his grandfather, William, fell in love with his grandmother, Anne, against the wishes of her father and despite their Catholic-Protestant religious differences, according to the Irish Times. Sheeran told the Times that he hopes the traditional Irish sound on "Nancy Mulligan" doesn't turn off his fans.
"I don't think enough people use [Irish music] in pop music," Sheeran said. "For some reason it's considered twee and old, but it's such exciting, youthful music, it should be at the forefront of pop culture. Hopefully if these songs are successful, more people will do a bit more like it."
Each lyric not only reveals beautiful details about the couple, but also how their 60-year marriage has endured, as well as just how enamored William remains of the woman he loves.
The Irish Mirror reported last fall that Sheeran penned a song for his grandmother, Anne. But while the song's title may be confusing, according to his grandfather's obituary in the GKT Gazette, "Bill married a Guy's nurse, Anne Mulligan, in 1951." Perhaps Nancy is her first or middle name? Guy's Hospital is located in central London, where William studied and practiced dentistry in the late 1940s.
From the first verse of the song, you learn that William met "Nancy" Mulligan when he was 24 years old. The Irishman intended to propose with a gold ring on a summer day. However, Nancy's father did not approve. But as the chorus reveals, William and Nancy "went on the run" to marry no matter what.
Sheeran's grandfather was from the Protestant Northern Ireland and Anne hailed from the Catholic south, so the two fled "down to the Wexford border" to wed, according to the website Raidió Teilifís Éireann.
In the second verse, you learn the couple met during World War II while she was caring for soldiers in a ward. William and Nancy married in "borrowed clothes," and went on to have five sons and three daughters. The final verse brings you up to speed on where William and Anne's love story ends. The two grow old together sitting by "the fire in our old armchairs." William reflects on how he, as a lowly farm boy from Belfast, Ireland, "never worried" about being apart from Nancy because he saw "no difference" between them.
Sheeran's grandparents have had a profound impact on the singer, who has managed to pay homage to them on various occasions. Most notably, after his grandfather died in 2013, Sheeran wore a tie his grandfather won from the British Boxing Board of Control to the Grammys, according to IrishCentral.com. The website also noted that Sheeran crashed at his grandma Anne's home in Wexford, Ireland in July 2015 prior to his sold-out shows in Dublin, so his change of tune into more traditional Irish sound was to be expected. While Divide features a plethora of love sings reflecting Sheeran's own life, his loving ode to his grandparents proves that love will always prevail.