The 'Flip Or Flop: Atlanta' Hosts Are A Real Estate Power Couple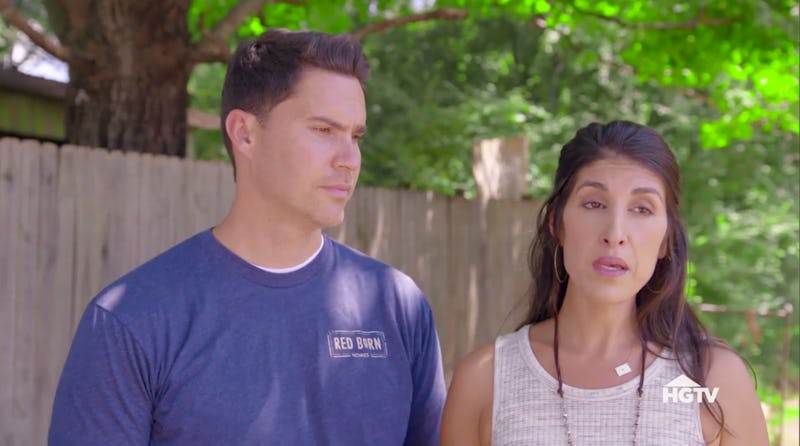 HGTV
There's nothing quite like the satisfaction (and frustration, if you cannot currently afford a million dollar renovation project) you get while watching home improvement shows — like Flip or Flop, the reality series where real estate partners Tarek and Christina El Moussa buy Californian houses with cash and renovate them to put back on the market for a profit. But of course, theirs isn't the only state full of broken houses that need fixing up, and Tarek and Christina can't exactly travel all over the country to do all that work themselves. That's why HGTV recently announced a huge slate of spin-offs in Chicago, Atlanta, Nashville, Vegas, and Texas, all of which will feature couples. So who are the hosts of Flip Or Flop: Atlanta, and what can you expect from them when the show premieres in July?
According to HGTV's official website, Ken and Anita Corsini have been married for 17 years since they met in college at the University of Georgia. Both are transplants to the Peach State; Anita was born in Raleigh, North Carolina and also lived in Texas before making her home in Georgia, and Ken lived in California until moving in grade school.
"We love the fact that Atlanta offers so much," Anita told HGTV. "You've got big city living, inner city living, life in the 'burbs, life in the country – take your pick. Atlanta has it all, and we enjoy every bit of it." They now live just outside Atlanta in Woodstock, Georgia with their three children, and several farm animals, including some some adorable baby cows.
In 2005, Ken founded Georgia Residential Partners, a company that specializes in "turn-key" real estate investments for landlords to rent out to tenants. That same year, he and Anita also founded a real estate company together known as Red Barn Homes, which according to their website was named after the little red barn they worked in when they were first starting out. The site also explains that Ken started out as a corporate businessman before switching gears and getting his masters' in Building Construction at Georgia Tech; just before the birth of their first child, Anita left her day job as a high school math teacher to join her husband in the family business, where they've been partners ever since.
Both Ken and Anita have separate Instagram accounts at @kencorsini and @anitacorsini, respectively; both spend a lot of time sharing pictures of their two adorable daughters and son.
On her own Instagram, Anita also occasionally uploads design inspiration and behind-the-scenes shots of the houses they flip.
There are other places to find the couple online, too. Ken hosts a podcast called the Deal Farm Podcast, and also writes a blog about real estate for Bigger Pockets. The two also share a Facebook page where they've been excitedly promoting the show in anticipation of its July 20 premiere.
On their website, the Corsinis note that they've flipped over 600 houses in the Metro Atlanta region; as of the latest promo for Flip or Flop: Atlanta, they say they're now up to almost 100 houses a year. And don't expect those houses to be easy to update; on the Red Barn Homes blog, Ken admitted that many of the flips filmed for their first season were "total dumpster fires" that ended up being huge renovation projects. So look forward to tuning into those transformations on HGTV this summer! It wouldn't be nearly as fun to watch if they didn't start out totally ugly, right?