The Last U.S. Citizens Imprisoned By North Korea Are Now Free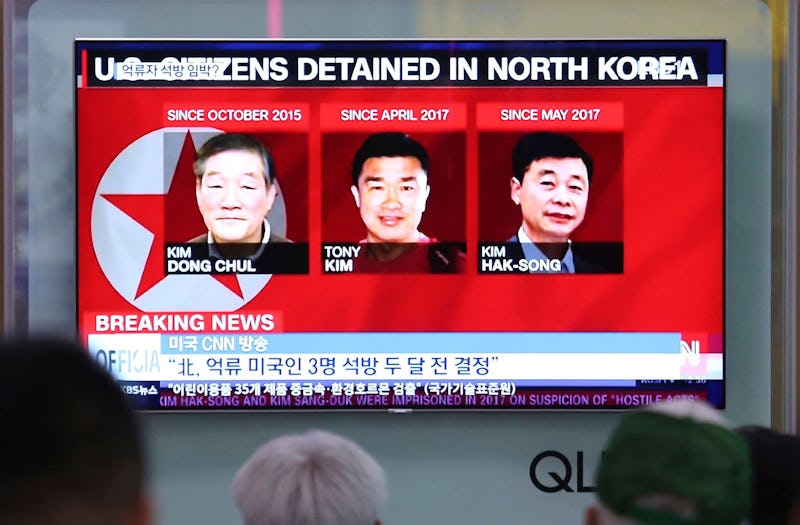 Ahn Young-joon/AP/REX/Shutterstock
On Wednesday, President Trump announced that Secretary of State Mike Pompeo had successfully secured the release of three U.S. men who have been held prisoner in North Korea. The Americans released by North Korea are Kim Dong-chul, Tony Kim, and Kim Hak-song, and they are thought to be the last U.S. citizens imprisoned by the regime, according to The New York Times.
It was an important moment for the men and their families, but also for U.S.-North Korean diplomacy: Freeing them was an American precondition for Trump taking part in a planned meeting between him and North Korea's leader, Kim Jong Un.
According to a tweet from Trump on Wednesday, the men are now on their way back to the United States and "seem to be in good health." That's an important point: North Korea is infamous for its sometimes brutal treatment of prisoners. Last June, another American — Otto Warmbier — was freed by North Korea but returned to the United States with such serious injuries that he died shortly after.
Each of the newly released Americans was held in North Korea for over one year but less than three. The longest detained was Kim Dong-chul, who was arrested in October 2015, according to CNN, and then convicted on espionage charges in January of 2016. The United States learned of his imprisonment through a CNN interview that month in which he admitted to having spied on North Korea for "South Korean conservative elements."
Born in South Korea, Kim Dong-chul was a naturalized American citizen. He was living in a Chinese city on the North Korean border when he began his spying work in April of 2013. "I'm asking the U.S. or South Korean government to rescue me," he told CNN. He said that his espionage "wasn't about the money" and that he had been trying to "help destroy the [DPRK's] system and spread propaganda against the government." CNN noted that he had made the comments in front of North Korean officials and could have said them under duress.
The next to have been detained was Tony Kim, who also goes by his Korean name, Kim Sang-duk. He was arrested at the Pyongyang airport in April 2017 on espionage charges while trying to leave the country. Kim had formerly been a professor at a Chinese school and was in the DPRK capital because he was teaching a class on international finance and management at a university there.
Kim's son, Sol Kim, launched a campaign called "Free USA 3" this February to free his father and the other two detained Americans. In an early publicity video for the project, he described how "my mom, my brother, and I miss our dad so much" and said that they are "so worried about him" and "don't know what is happening." He also mentioned that his father was unaware that he'll become a grandfather this July: His other son's wife is pregnant. Kim should be around to see the birth of his first grandchild now that he's been released.
The most recent American to have been imprisoned by North Korea is Kim Hak-song, who was working at the same Pyongyang university as Tony Kim but was teaching about rice-growing. According to former classmates who spoke to CNN, Kim Hak-song cared deeply about the country's hunger crisis and wanted to improve North Korean agriculture.
He was also a Christian pastor. In an interview with CNN last May, Kim's wife said that her husband — who had been accused by the DPRK of "hostile acts" toward the government — was innocent. "Honey, I believe 100 percent that you served our people with love," she said.
On Wednesday, The New York Times called the release of the three men "in some ways the most tangible gesture of sincerity" from Kim Jong Un "to improve relations with the United States after nearly seven decades of mutual antagonism." President Trump announced that the Americans will be landing back in the United States at 2 a.m. Thursday morning at Andrews Air Force Base outside of D.C.