The Barcelona Terror Attack Injured More Than 100 People From Dozens Of Countries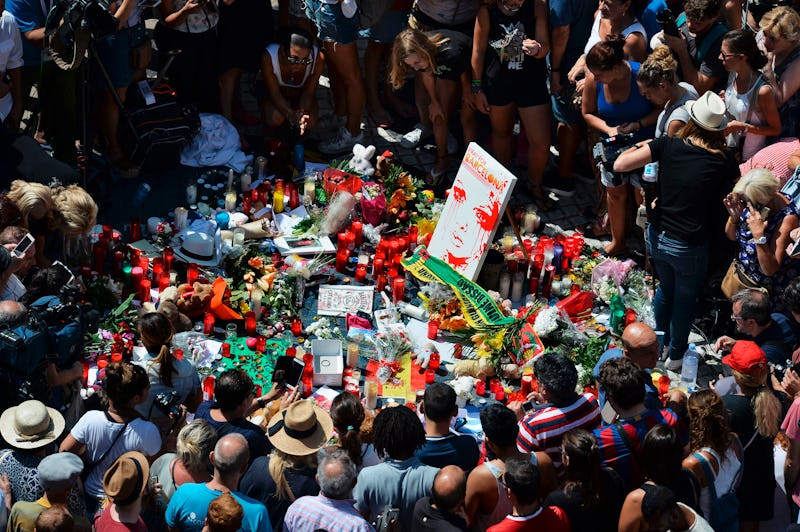 JOSEP LAGO/AFP/Getty Images
The terrorist attack in Barcelona this week claimed more than a dozen lives when a van rammed into pedestrians in the crowded tourist district of Las Ramblas on Thursday. Many of the victims of the Barcelona attack had traveled from around the world to visit the historic city but ended up living every tourist's worst nightmare.
According to The Guardian, police have identified over 100 victims of the Barcelona attack from nearly 35 countries from all over the world, including France, Venezuela, Australia, Algeria, and China. The death toll is currently at 14, but there may be more fatalities as people receive treatment in the coming days.
The first named victim was an Italian man, Bruno Gulotta, who died shielding his two young children from the attack. Other victims who were killed include a Belgian woman who was vacationing with her family, three Spanish citizens, and a Portuguese woman. The U.S. State Department also confirmed Friday morning that one American died and one was injured in the attack, although their names have not yet been released.
Police are now concerned about the possibility of a larger terrorist plot tied to the van attack, meaning there may be more victims soon if law enforcement is unable to fully uncover the potential threat. An explosion related to the van attack occurred on Wednesday in the town of Cambrils, which forced the attackers to use cars instead of their original plan, according to the BBC. Five suspected attackers were killed on Thursday, but a manhunt is still on for 18-year-old Moussa Oukabir. It's unknown at this time if there are any more co-conspirators who may be waiting to carry out other attacks.
If you want to support the victims of the attack, there are a few simple things you can do, even from far away. Some pretty graphic pictures of the attack were posted online in the immediate aftermath, which people are now asking others not to share so as not to re-traumatize victims. If you see any gruesome pictures or videos on social media, report them to the platform and ask that they be taken down. You can also donate to local mental health organizations in Barcelona, which will be strained as people seek treatment following this devastating attack.
This tragic attack is only the most recent of its kind, but it's critical that the world not forget what the people of Barcelona are going through. With victims from all over the world involved in this attack, it truly is a global tragedy, so everyone should be taking this personally.