These Are The 7 Referees Who'll Be Making Some Tough Calls In The 2018 Super Bowl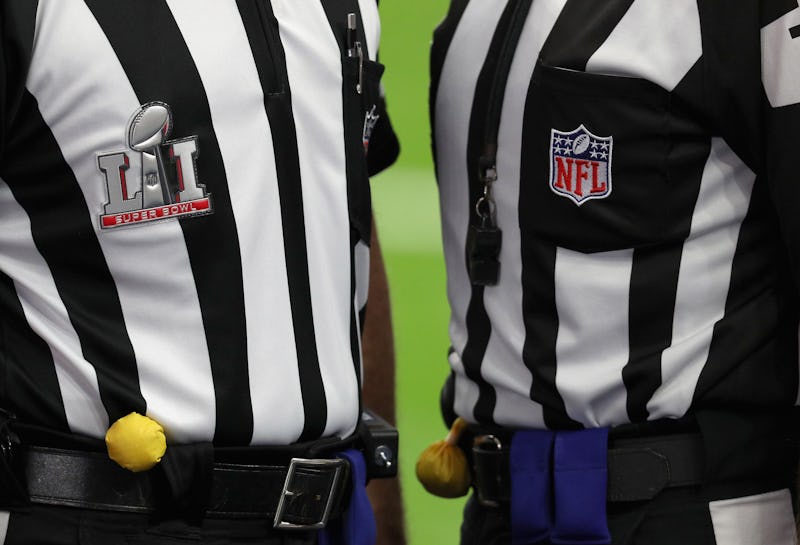 Patrick Smith/Getty Images Sport/Getty Images
In the lead up to Super Bowl LII it feels like every aspect to the game has been heavily scrutinized. From how the teams stack up against each other to key players' season statistics to how Minneapolis' weather might affect those on the field, it seems there's no detail of the Super Bowl that hasn't been mulled over. But there may be one last question to answer: Who are the Super Bowl 2018 referees?
While these NFL officials may not be as famous as quarterbacks or defensive linemen, they aren't exactly inconsequential either. Their calls and judgements can have a significant impact on the game.
The 2018 Super Bowl will be refereed by Gene Steratore, according to the NFL. Although this will be the first Super Bowl Steratore will referee, he's a veteran official with 15 years of experience in the League and 11 playoff games under his belt, according to Bleacher Report. He also once served as an alternate referee during Super Bowl XLIV, according to the NFL.
In fact, if you're a football fan, you might recognize Steratore. The NFL official made headlines earlier this season when he whipped out an index card to help him officiate a call during a game between the Dallas Cowboys and the Oakland Raiders. With the score tied and 5:06 minutes left in the game's fourth quarter, the Cowboys' Dak Prescott tried for a first down with a quarterback sneak. Traditionally, first downs are measured with chains. But in this case, the spot was too close to call and Steratore was forced to bring out another means of measurement: an index card.
That's right — Steratore relied on an index card to determine whether or not a first down had occurred. Ultimately, Steratore called it as a first down because the index card touched when slipped between the ball and the stick of the first-down chains.
But Steratore doesn't just officiate football. According to the Big Ten Network, he juggles his duties at the NFL with his work as a college basketball referee. Earlier this year, he referred a Minnesota v. Penn State basketball the day after officiating an NFL matchup between the Saints and the Vikings.
However, Steratore won't be the only official on the field during Super Bowl 2018. As the referee, he'll oversee a team of seven officials, each with a different job to do. Joining Steratore on the sidelines of Super Bowl 2018 will be Roy Ellison as umpire, Jerry Bergman as down judge, Byron Boston as line judge, Tom Hill as field judge, Scott Edwards as side judge, and Perry Paganelli as back judge. Each man has at least 15 seasons of experience as an official with the NFL and at least 10 career playoff games.
It should be noted that Super Bowl officials aren't selected at random. In fact, it's considered an honor to be chosen to oversee the NFL's biggest game of the year as only the officials considered to have done the best work throughout the season are selected. This also means the Super Bowl ends up being monitored by an "all-star" team of black-and-white-striped officials that have the ability to significantly influence the game's outcome.
In fact, some sports columnists have questioned whether Steratore's presence on the sidelines of Super Bowl 2018 will result in more officiating activity than normal. According to ESPN's Kevin Seifert, Steratore led the NFL's second most active regular-season officiating crew this past season, throwing an average of 17.1 flags per game.
But even though Steratore is officiating, don't expect to see any index cards used to measure plays on the field at this year's Super Bowl. Shortly after Steratore's controversial call, NFL's head of officiating Al Riveron deemed the move improper protocol and directed referees not to repeat it. The Philadelphia Eagles will take on the New England Patriots in Super Bowl LII at U.S. Bank Stadium in Minneapolis.