Who Are The Tax March 2018 Speakers? The D.C. Protest Will Bring Out Powerful Democrats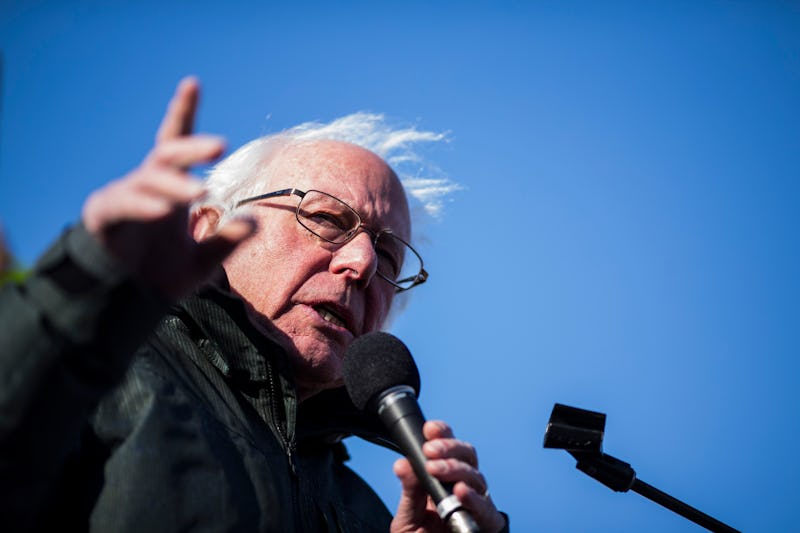 Zach Gibson/Getty Images News/Getty Images
Progressives across the country are gearing up for this year's Tax March, a nationwide protest against the tax bill that Republicans passed in December. There are over 100 marches planned across the country on and around April 15th, according to organizers, and although the logistics are still being finalized, many of the speakers at the 2018 Tax March in Washington D.C. have already been announced.
Most, but not all, of the confirmed speakers are elected Democrats. According to the official Facebook event page for the Washington D.C. march, the confirmed speakers at the April 17th event are:
Senate Minority Leader Chuck Schumer
Speaker of the House Nancy Pelosi
Sen. Bernie Sanders
Sen. Chris Van Hollen
Rep. Maxine Waters
Rep. Keith Ellison
Rep. Jamie Raskin
Rep. Joseph Crowley
Rep. Lloyd Doggett
Sister Simone Campbell of NETWORK Lobby for Catholic Social Justice
Elena Hung of Little Lobbyists
As you can see, all but two of those speakers are Democratic officeholders. That's no surprise: This march was conceived and marketed explicitly as a protest against the GOP's tax bill, and given that every single Democratic lawmaker in Congress voted against that legislation, it makes sense that Democrats are lining up to speak against it at a protest.
It's notable, though, that the speakers list includes a wide variety of Democrats: Everybody from establishment centrists like Schumer and Pelosi to left-wing outsiders like Sanders (and to a lesser extent, Ellison) is represented on the speakers. Despite the infighting that's rocked the Democratic Party over the last couple of years, the party appears fully united in its opposition to the GOP's regressive tax policies.
While this year's march targets the Republican tax bill, Tax March 2017 had a slightly different goal. That protest was aimed at convincing President Trump to release his tax returns (or, failing that, stirring up outrage at the fact that he hasn't). This year's march, though, is focused squarely on policy.
"It's been almost one year since thousands of Americans came together on Tax Day 2017 to demand Donald Trump's tax returns and a fairer tax system for all," the D.C. event's Facebook page reads. "In that time, however, Trump and Republicans have turned their backs on hard-working Americans only to help the wealthy and well-connected."
Although Republicans marketed the bill as a tax cut to help working class families, the bill Trump signed primarily benefits corporations and the extremely wealthy. The law in fact raises taxes on the majority of Americans (53 percent), including all average households that earn less than $75,000 a year, according to the Tax Policy Center — and yet 64 percent of millionaires will receive a tax cut under the law, according to the Center on Budget and Policy Priorities. By 2027, the bill will increase after-tax income for the top 0.1 percent of earners while decreasing it for the bottom 50 percent, according to the Tax Policy Center.
Last year's tax march was an attempt to convince Trump to release his tax returns, but because he still hasn't done so, it's impossible to say with precision how the new tax law will affect the president's personal finances. However, independent analyses by TIME, CNN, the Washington Post and PolitiFact have all found that Trump and his family will benefit greatly from the tax law. A more detailed analysis by NBC News concluded that the Trump family will make more than $1 billion under the new law, with Trump himself poised to earn over $20 million himself.
While campaigning for the tax bill, Trump repeatedly claimed that he personally wouldn't benefit financially from its provisions.
"This is going to cost me a fortune," Trump wrongly said at a Missouri rally in November. "This is not good for me."