Justin Timberlake's Band Name Started Out As A Joke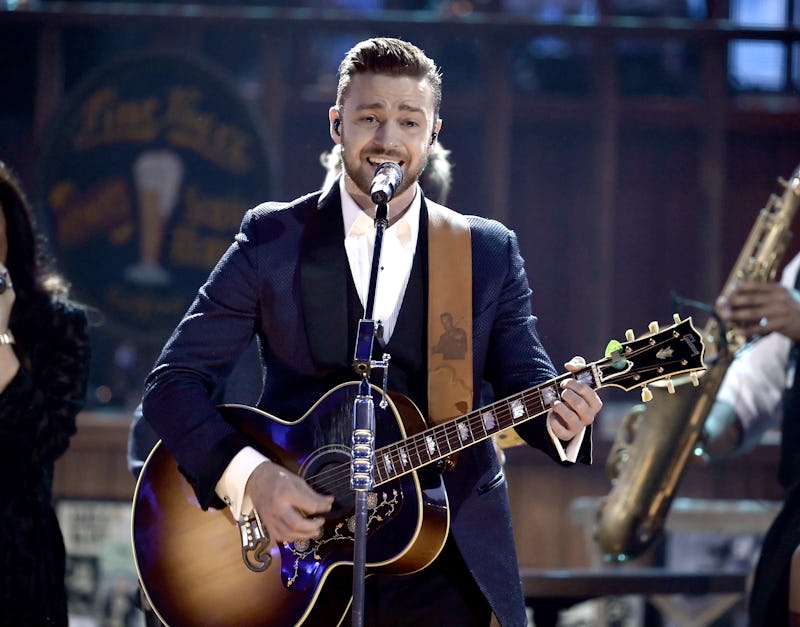 Kevin Winter/Getty Images Entertainment/Getty Images
If you keep hearing about "Justin Timberlake and the Tennessee Kids", then you're probably wondering, "Who are the Tennessee Kids?" It's a valid question, but the answer is someone confusing: It's Timberlake's band and his official fan club, according to the official Tennessee Kids' Twitter page. If you allow the Super Bowl 2018 halftime show performer and the musicians accompanying him on stage to explain, you'll get a better understanding of how his band and his official fan club can be the same thing.
On Wednesday, Pepsi released a behind-the-scenes look into the former *NSYNC member's big halftime performance. The video focused heavily on The Tennessee Kids. As Timberlake says, "The name started off almost like a joke, I put it as a liner note on one of the songs I sang on The 20/20 Experience." And he says of his band, "When it came time to tour, I was like, 'You guys should be the Tennessee Kids.'"
Musical director Adam Blackstone says in the video about the name, "It clicked right away." He continues and explains how it's so much more than just a band name. Per Blackstone, "We embrace it. Some of the fans are Tennessee Kids. They jump in with us. It's a mindset. It's a mentality. Supporting each other, a brotherhood, a sisterhood, no racial lines, no gender lines, everybody just having a good time, having fun."
"It's a club where everyone is invited," Timberlake says. "It's just a kickass group of musicians. We've played together now for so long that we really have a thing." Timberlake says that "even though everyone is from different walks of life and different states" that doesn't matter, because everyone is a Tennessee Kid.
Drummer Brian Frasier Moore explains, "We're all like brothers. Each person has a character, but when we come together it's a force to reckon with." If you ask guitarist Elliot Ives, he say he's technically the only real "Tennessee Kid" because he's from Memphis, which is also Timberlake's hometown.
So, the "Tennessee Kids" refers to both Timberlake's band and his fans. It kind of makes sense, especially since the Man in the Woods artist is from the southern state. He clearly views his fans and those who support him, like his band members, as his "Tennessee Kids".
His official fan club is even called the Tennessee Kids. Anyone can join for an annual fee of $24.99 and receive exclusive access to merchandise, contests, and content throughout the year. In November 2016, Timberlake talked about his fans with Variety and how wonderful of a feeling it is to make them happy. "But the more I go through this — making people laugh, and making people feel — it's an amazing thing to be a part of," he said. "I get a gift out of it."
For those who want even more behind-the-scenes access to Timberlake and his band, then you might want to check out the "Filthy" singer's Netflix special appropriately titled, Justin Timberlake + the Tennessee Kids. The 90-minute documentary focuses on the final nights of his two-year 20/20 Experience tour in Las Vegas. The other dancers, musicians, and singers who toured with Timberlake are also featured in the film.
JT fans will get to see even more from his band come Sunday, Feb. 4 when the musician finally takes the stage for his Super Bowl performance. Not much is known about his halftime show, but according to Timberlake's drummer, Moore, "The show's going to be amazing. I'm looking forward to this one particular point of the show to see everyone's unity. That's all I can say."
It sure sounds like Timberlake will be incorporating the heart of the Tennessee Kids into his performance.