It Looks Like Democrats And Republicans Will Split Control Of Congress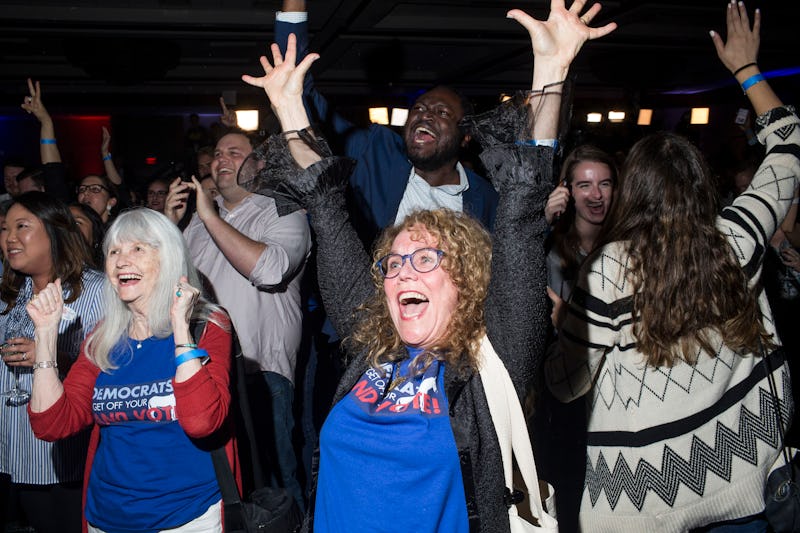 Zach Gibson/Getty Images News/Getty Images
In more ways than one, the 2018 midterms were nothing short of a battle for Congress. And with the votes in, the question on everyone's mind is who controls Congress now. Ultimately, the midterms resulted in a split Congress, according to CNN, NBC, and CBS, with the Republicans retaining control of the Senate and the Democrats taking back the House of Representatives, thereby creating potential hurdles for the Trump administration.
In the run up to the 2018 midterms, President Donald Trump spent a good portion of his time stumping for Republican candidates all across the country. But while Trump rallied on behalf of individual GOP candidates, he spent just as much of his time rallying against Democrats as a whole. On more than one occasion, the president appeared to framed the midterms as a match up between "good" and "evil," with Democrats cast as the "dangerous" villain.
"The Democrats have become too extreme and too dangerous to govern," Trump said at a campaign rally in early October. "Republicans believe in the rule of law, not the rule of the mob."
On Twitter, one of the president's preferred platforms for reaching supporters, Trump has echoed similar messages.
"At stake in this Election is whether we continue the extraordinary prosperity we have achieved - or whether we let the Radical Democrat Mob take a giant wrecking ball to our Country and our Economy!" he tweeted Oct. 23.
But Trump isn't the only one to have considered the potential control of Congress to be a significant voting factor in this year's election. According to a recent survey conducted by Pew Research Center, 72 percent of voters reported factoring in control of Congress when weighing their voting options.
But what does it mean for both voters and Trump now that control of Congress is split between Democrats and Republicans? For starters, Trump and the GOP will face significant difficulties while trying to pass any major policy proposals — such as a border wall — through the House, because the Democratic majority would likely reject it.
Voters can also expect a Democrat-controlled House to investigate Trump on a number of fronts. For months, ThinkProgress reported, Democrats have pledged to subpoena Trump for important records, such as his tax returns and documents pertaining to his campaign.
Among them is Rep. Maxine Waters (D-Calif.), who — now that the Democrats have retaken the House — will likely become the chairwoman of the House Financial Services Committee. Waters has already attempted to subpoena Trump in the past, in order to expose potential ties between his family's finances and Russian officials. Now that Democrats are once again the majority in the House, Waters will have a powerful platform from which to issue these subpoenas, and her party will be better able to ensure the continuation of Robert Mueller's Russia probe.
But while Democrats successfully flipped the House, Republicans were able to increase the margin by which they control the Senate. The Associated Press projected that multiple Democrats in typically red states — Claire McCaskill in Missouri, Heidi Heitkamp in North Dakota, and Joe Donnelly in Indiana — would lose their Senate seats. All three of these senators voted against the confirmation of Brett Kavanaugh to the Supreme Court, prompting criticism from Republican voters in their respective states.
By retaining the Senate and expanding their majority, Republicans have all but ensured that they will still have the final say on important confirmation votes for the next two years. However, a split Congress will nonetheless be a headache for Trump and the GOP, who — after already struggling to pass key legislation, per ThinkProgress — will now face increased hurdles.
Morgan Brinlee contributed to this report.