From Vera Wang To Mom, Here's Who Is Actually Behind Those Intricate Figure Skating Costumes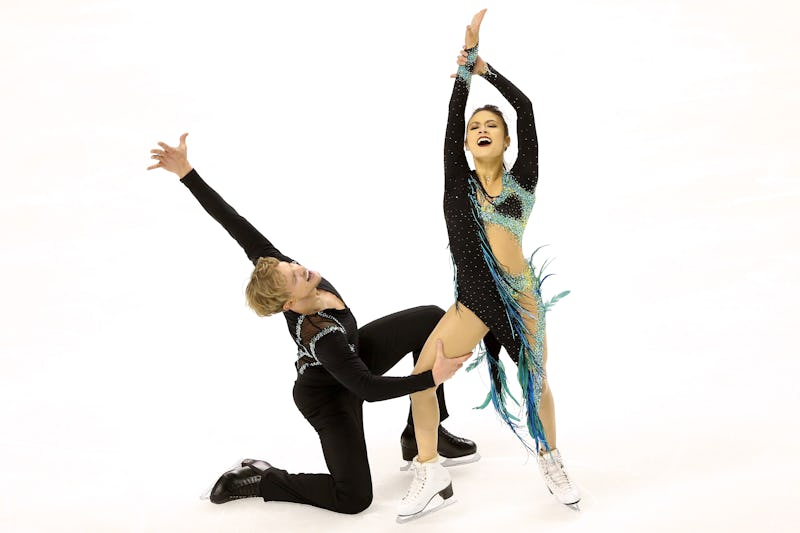 Matthew Stockman/Getty Images Sport/Getty Images
The 2018 Winter Olympic Games in PyeongChang are just a week away, which means that those bedazzled and bejeweled spandex confectioneries known as ice skating costumes are right around the corner. While you might be pumped to see the skiers and snowboarders take up your TV screen, ice skating is arguably the "darling" of the Winter Olympics. The event is full of spectacle, drama, suspense, and fabulous clothing. But who are the costume designers behind the figure skating styles? It turns out, there isn't one quick answer to that question.
Since the ice skating portion is split into four different categories — the women's team, the men's team, the pairs team, and the ice dance team — each person or pair is responsible for their own costume design. There isn't one blanket U.S. team uniform designer like other sports, so each figure skater will be able to choose the best designer who matches their vision and aesthetic.
And the designers they choose are all so different.
For example, Nathan Chen, the 18 year-old figure skater on the U.S. men's team, has enlisted the help of Vera Wang. Wang isn't new to the ice skating world being a former skater herself, so she knew just what Chen needed in order to bring pizzazz to the ice. She also had designed for the Olympics before, where she created costumes for both Olympic silver medalist Nancy Kerrigan and two-time Olympic medalist Michelle Kwan.
On the flip-side, Madison Chock and Evan Bates — who are on the ice dance team — design their own uniforms. This isn't uncommon, and even the most prestigious and sought-after ice skating designers have been self-taught.
Chock creates her and Bates' costumes, and even takes on other skaters as clients, too. In an interview with KOB4, she shared that if she didn't choose a career in skating, she "would love to be a fashion designer or involved in the fashion world." And her costumes are gorgeous — just look at this fringed and bedazzled concoction.
Madison Hubbell and Zachary Donohue, also on the ice dance team, don't make their own costumes, but they also don't have a haute couture designer in their corner, either. Hubbell's mom, Susan, creates their costumes, and the two brainstorm designs and go shopping for materials together.
"It is very special, I definitely feel a big connection to her support when I'm able to wear something she's made," Hubbell told WWLP. "It's nice to take a piece of her out there on the ice with me."
While it sounds sweet, you would be surprised how much work goes into creating those tiny but glittering pieces. And how quickly they could be nixed after just one rehearsal or two. For example, Hubbell's mom, Susan, hand-beaded around 10,000 rhinestones onto one costume, only to have it cut after going through just one rehearsal.
"They loved the dress, it looked beautiful, everybody loved it," Hubbell told WWLP. "But after the first event, when they saw the dress in motion, they thought it hid some of her movement, so they decided to change. That happens all the time." Brutal.
It's interesting that not only do Olympic skaters choose their own varied designers, but some even make their own costumes. Knowing that, it will be extra special watching their performances on TV, and wondering if that one amazing jumpsuit or that one sheer dress was hand sewn by the skater. After all, they have talent aplenty.