Trump Picked This Team To Win The Super Bowl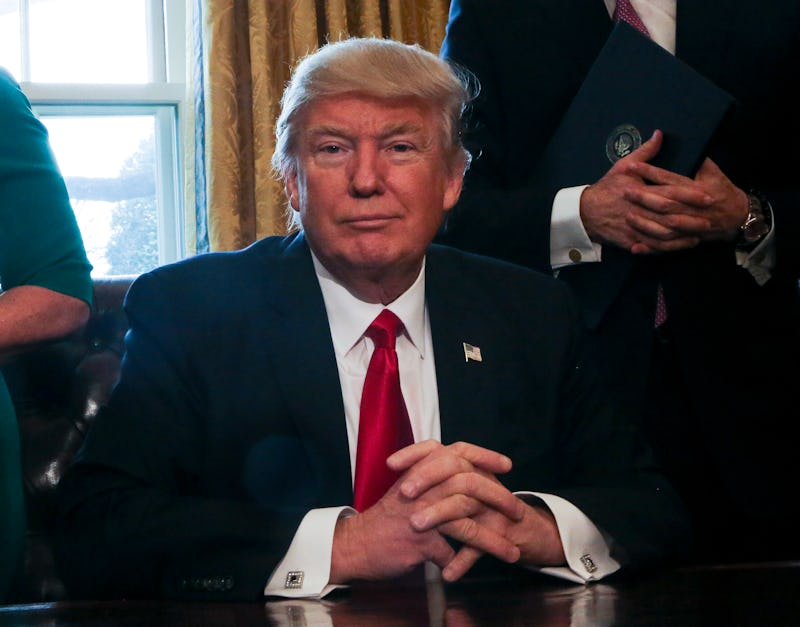 Pool/Getty Images News/Getty Images
It's Super Bowl Sunday and if you thought you would be getting a break from hearing from President Donald Trump today, you thought wrong. Trump appeared on a Fox pregame show Sunday, and he let America know who he thinks will be tonight's victor. But who did Trump pick to win the Super Bowl?
Well, given Trump's penchant for shouting his close friends and supporters out, the answer isn't very surprising. After an interview about policy with Fox's Bill O'Reilly, Trump briefly took questions about his Super Bowl predictions. He complimented the New England Patriots and the Atlanta Falcons (which he referred to as "the other team"), but eventually his friendship with Patriots owner Bob Kraft and quarterback Tom Brady won out.
"I like Bob Kraft, I like Coach Belichick, and Tom Brady is my friend," Trump told O'Reilly, who pointed out that the three were taking "gas" because of their association with the president. "They're taking a lot of heat," Trump acknowledged, "but you know what, they're also getting a lot of popularity out of it."
Brady, Kraft, and Belichick have all come forth at different times to say their relationships with Trump have to do with "friendship and loyalty, nothing more," the New York Times reported. While in recent days Brady in particular has been downplaying their friendship (he wrote to the New York Times' Mark Leibovich, saying, "I really have no interest in political talk right now,") Trump has consistently name-dropped the Patriots' star player, including during Sunday's interview.
On the other hand, the Falcons' owner, Arthur Blank, is a well-known Jewish leader in Georgia who has come forward to publicly criticize Trump about his Holocaust Remembrance Day statement, The Atlanta-Journal Constitution reported. Blank pointed out that Trump did not specifically mention the six million Jews murdered under the Nazi regime during his statement. "I think it always deserves recognition," he said. (Spokesman Sean Spicer told media outlets a Jewish person descended from Holocaust survivors had helped write the statement, The Atlanta-Journal Constitution reported.)
To be fair, this might not have been the reason why the president didn't seem to want to make any predictions about who would win the big game, seeing as he told O'Reilly, "Well, I hate to make predictions." When pressed further, the president said, "I hate to do it but I'll say I don't even know what are the odds. I guess it's pretty even, right two great teams. Pretty even, so I'll say the Patriots will win…by eight points."
Trump didn't mention the Falcons by name a single time during the interview, leading some to speculate that he didn't actually know which team was facing off with the Patriots. We'll have to wait and see whether his prediction comes true.